Kevin Spacey to deliver MacTaggart lecture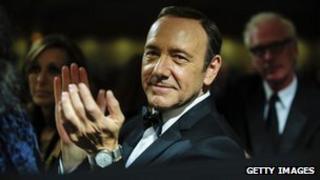 Award-winning actor Kevin Spacey is to deliver the annual MacTaggart lecture as part of the 2013 Edinburgh International Television Festival.
Spacey, star of the acclaimed Netflix drama, House of Cards, will discuss the "huge opportunity, innovation and creativity" in the TV industry.
He added that he was "honoured" and "excited" to share his thoughts.
The lecture often sets the tone for what is the biggest TV industry talking shop in the UK.
The US re-make of the British 1990 political drama House of Cards bypassed traditional TV networks and was only available to viewers online.
Spacey, a two-time Oscar winner for his performances in The Usual Suspects and American Beauty, was also the executive producer of House of Cards.
He has also been the artistic director of London's Old Vic Theatre since 2004.
"As a newcomer to the TV industry I am honoured to be invited to give the MacTaggart Lecture," he said.
'Extraordinary performances'
"I'm excited to share my thoughts and meet players from across the media industry.
"I'm also an Edinburgh TV Festival virgin so have no idea what I am letting myself in for!"
Chair of the festival, Elaine Beddell, said she was "thrilled" at Spacey's involvement.
"Kevin Spacey has been at the centre of cultural life both here in the UK and in the States for many years - and now with House of Cards, he has shown that he is also at the forefront of new ways of delivering television content to audiences.
"I've no doubt that his speech in Edinburgh will be as blistering, honest, and entertaining as any of his extraordinary performances on screen and stage," she said.
Spacey has also appeared in several productions at the Old Vic during his tenure there, including Richard II and The Philadelphia Story.
In 2010 he was made a CBE by the Queen for services to the theatre.
Elisabeth Murdoch, chair of the Shine Group behind shows such as One Born Every Minute and Masterchef, delivered last year's festival lecture.