David Edgar's coalition play set for Chichester Theatre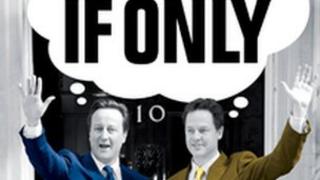 A new drama about the UK's coalition government by playwright David Edgar is to premiere at the Chichester Festival Theatre in June.
If Only, set in the run-up to the 2015 general election, is billed as a "witty exploration of the morals dilemmas" that affect coalition parties.
It will be directed by Angus Jackson, whose stage credits include the award-winning Goodnight Mister Tom.
It will run at the Minerva Theatre from 14 June to 27 July.
The story begins in April 2010, the day after the first prime ministerial debate, when a Conservative Party candidate, Labour adviser and Liberal Democrat employee find themselves stranded together at Malaga airport.
Drama unfolds when they meet again four years later, when one considers revealing something that could change the outcome of the election.
The cast includes Jamie Glover, whose previous stage roles include the West End production of Noises Off and who starred in BBC One's Waterloo Road as deputy headmaster Andrew Treneman.
Martin Hutson plays Labour adviser Sam, while Charlotte Lucas, best known as Selena Geeson in ITV's Bad Girls, has been cast as Lib Dem staffer Jo.
David Edgar is one of the UK's leading playwrights with credits including The Life and Adventures of Nicholas Nickleby, an adaptation of Charles Dickens's novel Nicholas Nickleby.
His 2005 play Playing With Fire looked at the politics of Tony Blair's New Labour and racial tensions in multicultural Britain.