Dirty Dancing to replace Viva Forever! in the West End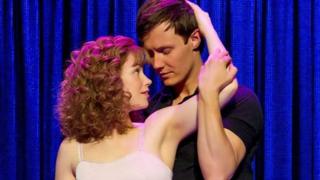 Dirty Dancing is to replace Spice Girls musical Viva Forever! after it closes at the Piccadilly Theatre in London's West End.
Viva Forever!, which was written by Jennifer Saunders, recently announced that it would close after poor ticket sales and damning reviews.
The Spice Girls said they were "gutted" when producer Judy Cramer said they could not "make it work".
Dirty Dancing, which is currently touring the UK, will open on 13 July.
The musical, based on the hit 1987 film, previously played in London at the Aldwych Theatre from 2006 to 2011.
Viva Forever!, which tells the story of a girl band who pursue stardom on a reality TV series, will close on 29 June.
"It is with a heavy heart that we've had to make this very difficult decision to post closing notices," said Craymer in the announcement on 2 May.
"Viva Forever! may be taking its leave for now in the West End, but the legacy of Spice Girls will never fade."
Dirty Dancing producers Karl Sydow and Amber Jacobsen said they were "delighted" that the show would be coming back to London.
The nationwide tour, which has been seen by over a million people, finishes in June at the Manchester Opera House. A new UK tour will begin next March.