Michael Haneke wins Prince of Asturias arts prize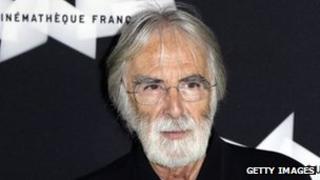 Austrian film-maker Michael Haneke has won the prestigious Prince of Asturias award for the arts in Madrid.
The 71-year-old's latest film Amour, depicting an ageing couple, won best foreign film at this year's Oscars.
Haneke beat 32 other contenders to take the 50,000 euro (£40,000) prize, one of Spain's highest honours.
The jury hailed him as a leading figure in modern European cinema, praising "his relentless, personal exposure of reality".
A statement from the Asturias Foundation said: "His penetrating, radical gaze on society has allowed him to explore uncharted terrain to become one of the leading auteurs of contemporary European cinema."
Haneke achieved international acclaim in 1997 with the psychological thriller Funny Games, about two young men who hold a family hostage.
His 2001 film The Piano Teacher, based on the novel by Elfriede Jelinek, won the Grand Prix at the Cannes Film Festival, and Haneke had further success in 2005 with the thriller Hidden, starring Juliette Binoche.
Amour, which tells the story of a couple trying to come to terms with sickness and old age, won the Oscar for best foreign film after winning the Palme d'Or at Cannes in 2012.
The Prince of Asturias award for the arts is given to an individual or institution whose work "constitutes a significant contribution to mankind's culture heritage".
Last year it went to Spanish architect Rafael Moneo. Other previous winners include British architect Norman Foster, Spanish director Pedro Almodovar and veteran Canadian songwriter Leonard Cohen.
Among the contenders for this year's award were Cuban dancer and choreographer Carlos Acosta, Serbian artist Marina Abramovic and Estonian composer Arvo Part.
The arts prize is one of eight given in different fields by the foundation each year.