Metal singer pleads not guilty in wife murder plot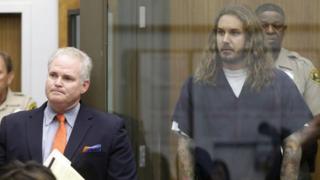 The singer of Grammy-nominated US heavy metal band As I Lay Dying has pleaded not guilty to plotting the murder of his estranged wife.
Prosecutors said Tim Lambesis, 32, handed $1,000 (£650) in cash to an undercover policeman with instructions on how to kill his wife Meggan.
The judge set bail at $3m (£1.9m) for the singer, who faces up to nine years in jail if convicted.
Mr Lambesis' lawyer Anthony Salerno said the singer had been set up.
"Law enforcement was fed something by someone who effectively orchestrated the whole thing... He did not intend to harm anybody," Mr Salerno said.
Mr Lambesis was arrested on 7 May at a shop in San Diego, California, after a meeting an undercover agent who went by the alias Red.
He was recorded saying he wanted his wife killed, according to prosecutor Claudia Grasso.
The undercover operation was staged after the singer told a man at his gym that he wanted his wife killed, Ms Glasso told a court hearing in Vista, California.
He had allegedly complained that she was making it difficult for him to see their children and to complete their divorce, the prosecutor added.
"He is substantially motivated to kill his wife,'' she said.
The singer's wife filed for divorce last September, according to San Diego Superior Court documents. The couple adopted three children from Ethiopia in recent years before separating.
Bail conditions prohibit Mr Lambesis from contacting his wife or children and he cannot leave the San Diego area except to see his lawyer in Los Angeles.
As I Lay Dying, who formed in San Diego in 2000, have sold more than a million albums. Last year, the band - who take their name from a 1930 novel by William Faulkner - released their sixth album, Awakened.
According to his lawyer, Mr Lambesis is expected to make bail but it is not known whether the band's 30-city US tour will go ahead at the end of the month.
Mr Salerno said he would ask the judge for permission for Mr Lambesis to travel if the band wanted to go ahead with the concerts.