Jeanne Cooper, star of The Young and the Restless, dies aged 84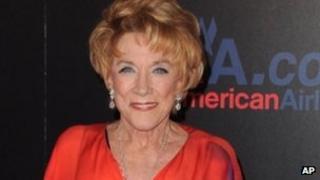 American soap actress Jeanne Cooper, who spent 40 years on The Young and the Restless, has died at the age of 84.
Her son, actor Corbin Bernsen, confirmed she died in her sleep on Wednesday.
"One of the last great broads in our business - Jeanne Cooper, Mom - is now stirring up trouble in great beyond," her family said, in a statement.
In 1973 Cooper joined The Young and the Restless as Katherine Chancellor, and remained on the show until her death.
She received 11 Daytime Emmy nominations and won a best actress in a drama series award in 2008.
Known as the The Duchess, and the Grand Dame of Genoa, her character was a wealthy businesswoman who battled drink problems and buried four husbands.
The character also underwent a face-lift at the same time Cooper was having one in real life.
"It opened up reconstructive surgery for so many people, youngsters getting things done,'' she said.
"To this day, people will come up to me and say, `Thank you so much for doing that. My mom or I had something done, and not just cosmetic surgery.' That was an incredible experience in my life.''
In the 1980s, Cooper appeared on LA Law, playing the mother to Bernsen's character. Her real life son later made several guest appearances on The Young and the Restless.
Bernsen had been keeping her fans updated with her health in recent weeks, posting on Facebook on 12 April that his mother faced an "uphill battle" with an unnamed illness.
He later wrote: "My mother passed away this morning just a short time ago, peaceful with my sister by her side, in her sleep."
The Young and the Restless cast member Melissa Claire Egan said on Twitter: "Heaven just gained one feisty angel", while fellow co-star Jessica Collins wrote: "A very sad day for all of us. You will be deeply missed."