Fox orders US Gavin and Stacey and JJ Abrams drama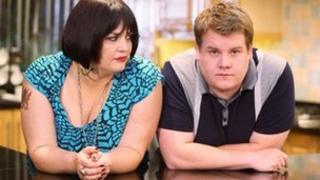 US TV network Fox has announced its schedule for the 2013-2014 season, featuring an American version of the British hit comedy Gavin and Stacey.
Us and Them stars Parenthood's Jason Ritter and Alexis Bledel, of The Gilmore Girls, as a young couple whose relationship is complicated by friends.
The original British series was created by James Corden and Ruth Jones.
The US version is a co-production between BBC Worldwide and Sony Pictures.
An "action-packed" futuristic police series produced by Star Trek director JJ Abrams is one of four new dramas to be commissioned.
Abrams' series, with the working title Almost Human, was described by Fox as a police drama set 35 years in the future, when officers are teamed with human-like androids.
The cast will include Karl Urban, Michael Ealy and Lili Taylor.
On the comedy side, Seth Greene will star in a sitcom from Family Guy creator Seth MacFarlane.
'Freewheeling detective'
Dads will follow best friends Warner (Greene) and Eli, played by Giovanni Ribisi, whose lives are disrupted by their new roommates, their dads.
Joining it will be Brooklyn Nine-Nine with Andy Samberg of Saturday Night Live fame and more recently, the BBC Three comedy Cuckoo - in which he starred alongside Greg Davies.
Samberg plays a "freewheeling detective" whose "by-the-book" boss is intent on making him into an adult and play by the rules.
Other dramas for the forthcoming season include Sleepy Hollow, which will retell Washington Irving's classic 19th-century tale, The Legend of Sleepy Hollow.
Timid schoolmaster Ichabod Crane, played by British stage actor Tom Mison, is resurrected 250 years in the future and discovers he must save the world from destruction, with a police officer (Nicole Beharie) as his partner.
Sam Raimi, whose recent directing credits include Oz the Great and Powerful, as well as the Spider Man franchise, brings his expertise to Rake, a legal drama based on the hit Australian series of the same name.
Its cast includes Greg Kinnear, who starred in Little Miss Sunshine and the mini-series, The Kennedys.
Rounding off the four new drama commissions is Gang Related with rapper-producer RZA, founder of the Wu-Tang Clan, who plays one of Los Angeles' most dangerous criminals, alongside Terry O'Quinn of Lost.