Pulitzer winner tackles his past on stage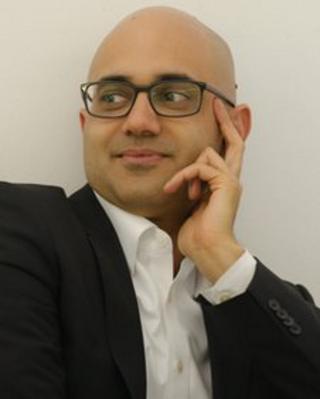 The day after Ayad Akhtar left New York to see his play Disgraced produced in London it won him the Pulitzer Prize for Drama back home. Akhtar writes about the complexities of being a Pakistani-American and a Muslim. And one of his big influences is Woody Allen.
Disgraced opened last year in Chicago and transferred to New York to the Claire Tow theatre at Lincoln Center - a new 112-seat auditorium designed to hold adventurous work which gets people talking. Disgraced fitted the bill.
At the play's centre is Amir Kapoor (born Abdullah), a high-powered New York lawyer of Pakistani descent. He lives an affluent life with his artist wife Emily and is doing well at a largely Jewish legal firm.
Since 9/11 Amir has found it convenient to obscure or deny his Muslim background, at times allowing others to assume he's Indian.
Though Disgraced starts out as comedy it explores the fault-lines of ethnicity and religious allegiance which run through American society.
"I've noticed this a lot with Pakistani-American friends," says Akhtar. "In certain circumstances they will represent themselves as being Indian because there's less stigma. Even the word Pakistan has become a loaded concept in America.
"Avoiding that word is a mark of trying to redefine yourself. This is how things have been post 9/11 and post the Iraq War and it's also the effect of drone attacks in Pakistan. It's the new geopolitics."
Akhtar knows the world he's writing about. He's 42 and was born in New York to Pakistani parents who later moved to Wisconsin. He's been an actor and last year published his first novel, American Dervish.
The book is about a boy growing up Muslim in Milwaukee, as Akhtar did. "I've been writing since my 20s but about a decade ago I hit a pivotal shift in my career. I realised I was fleeing questions about where I came from and who I was.
"I think I'd avoided my background as a topic because I worried that no one else really shared it. I felt I couldn't write universal stories if I was going to write about what I saw growing up.
"Of course I'd been to writing classes where the tutor always said write about what you know. For a long time it didn't click for me.
"Now I'm writing about subjects with Pakistani backgrounds. But I'm trying to write to a universal point using detail from my own life and the lives of those around me.
"One of the writers I really admire is Woody Allen. I love the way he chronicles the lives of a certain type of prosperous, intelligent New Yorker. It's one of the things I want to write about too: not everything I do is about being a Muslim."
Akhtar hasn't been home since winning the Pulitzer. "I heard the news from the press agent at Lincoln Center who called me. I was jet-lagged and I didn't believe him.
"Apparently the one thing it guarantees is the New York Times will now prepare an obituary of me. Other than that I hope theatres may be more interested in staging the play. But we'll see."
Getting the Pulitzer suggests people in New York found plenty to think about in Disgraced. At one point, as his life starts to unravel, the central character Amir suggests that when 9/11 occurred his loyalties had at first been mixed.
"Especially in New York there was an eerie, eerie silence in the theatre at that point. It was an absolutely remarkable experience for a playwright to witness. But some audience-members told me afterwards they admired Amir's honesty and wished other people in the play could have been equally honest."
Akhtar had barely had time on 15 April to register his Pulitzer win before his phone started to buzz in London with news of the bombing in Boston.
"I was sitting in my hotel room with the BBC on mute in the corner showing endless shots from Boston. Of course there was an irony for me that the play I'd written emanates from and is a response to the very world that was being depicted.
"What happened in Boston is tragic. Some classified it as an Islamist attack. But the rush to categorisation, to generalisation and conclusion is perhaps not always in the best interests of anybody. But it's fully understandable considering the trauma.
"My play isn't about terror attacks but it deals with aspects of the wider social background and what people really believe. But it has to work as theatre: you experience the play as basically 50 minutes of comedy before you can't laugh anymore."
Now Akhtar is eager to see how his play works in the UK. "I hope people don't think they're observing something only going on in America. I want audiences to relate it to their own lives as well."
Disgraced is at London's Bush Theatre from 17 May.