Profile: Jimmy Tarbuck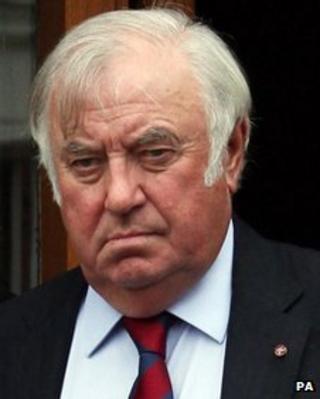 Jimmy Tarbuck, who has been arrested over an allegation of child sex abuse dating back to the 1970s, has had a television career spanning more than 50 years.
The 73-year-old comedian was made an OBE in 1994 for his services to showbusiness and charity.
Known for his gap-toothed grin, broad Liverpudlian accent and love of golf, 'Tarby' has entertained millions with his tall tales and celebrity anecdotes.
He still tours the country with his one man show, regularly plays in charity golf matches and commands up to £20,000 for after-dinner engagements.
Born in Liverpool in February 1940, James Joseph Tarbuck was a schoolmate of John Lennon and had initially hoped to be a professional footballer.
After leaving school at 15 the bookmaker's son had a variety of jobs, among them milkman, gardener and apprentice garage mechanic.
"I was always one of these kids who had the smart back-answer in school - a right hard-faced, cheeky young man," he told Roy Plomley on a 1972 edition of Desert Island Discs.
In 1958 Tarbuck won a talent contest during a visit to Butlins, a win that led to him securing an agent.
Aged just 18, he became a compere on a touring rock and roll show, a job that saw him introducing the likes of Cliff Richard.
He went on to become a Butlins redcoat, during which he was spotted and given his first TV spot on Comedy Bandbox.
"By the time I was 22 I was appearing on Sunday Night at the London Palladium," he told the Daily Mail in 2010. "Extraordinary."
In 1965 he became the resident compere of the ITV show, going on to star in The Jimmy Tarbuck Show and Tarbuck's Luck on the channel.
Tarbuck made his first appearance at the Royal Variety Performance in 1964, an occasion he looked back on last November during the 2012 event.
He went on to host numerous TV quiz shows, including Winner Takes All, Full Swing and Tarby's Frame Game.
In the 1980s Tarbuck signed a five-year contract with London Weekend Television that saw him present Live from Her Majesty's, Live from the Piccadilly and Live from the London Palladium.
Talk show Tarby and Friends also aired during this period, to be followed in 1988 by Tarby After Ten.
In 2006 he appeared as a contestant in the fourth series Strictly Come Dancing, alongside professional dancer Flavia Cacace.
But he was forced to withdraw from the BBC One show after being diagnosed with high blood pressure.
Four years later he spoke to the BBC about being diagnosed with type-2 diabetes and how he lost weight to combat it.
"It's like everything, isn't it?" he told reporter Neil Bowdler. "If you're told early enough, you can adjust and fight back."
A lifelong supporter of Liverpool FC, Tarbuck is the author of two best-selling books: Tarbuck on Golf and Tarbuck on Showbiz.
The comedian has three children with his wife Pauline, one of whom is the actress and presenter Liza Tarbuck.
The pair appeared together in BBC One drama Linda Green, in which Tarbuck played the title character's uncle.