Royal Opera premieres 'darker' Hansel and Gretel ballet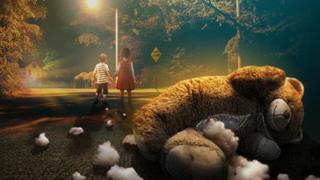 Two hundred years ago the Brothers Grimm published their version of the German folk tale Hansel and Gretel. Now the Royal Opera House in London is staging what it calls "a dark, adult take" on the story - a new ballet set in the America of the 1950s and 1960s.
Until now the best-known adaptation of Hansel and Gretel has been the opera of the same name written 120 years ago by classical composer Engelbert Humperdinck.
Now Liam Scarlett - appointed artist-in-residence at the Royal Opera House in London at 26 - has created a full-length ballet about the young brother and sister who get lost in the woods and encounter an evil witch.
"The Grimm tales were always in the back of my mind as possible material for ballet. Partly it's their malicious dark side. But I also love their simplicity: they were meant for children and most are only a few pages long. The sentences are simplistic and to the point and the writing works brilliantly."
Ultimately Jacob and Wilhelm Grimm collected a couple of hundred tales. So why did Scarlett stick to one of the best-known for his new work?
"It's true the basic story is familiar, but in recent years there have been surprisingly few adaptations. Yet there are lots of modern-day references to play with.
"Hansel and Gretel deals with child abduction and a hostage situation. There's a dysfunctional family and parents in economic crisis. Then there's a malevolent stepmother who's beating the children and a cowardly father who can't even pay the rent.
"The children think they're older and better than they are: in some ways they're as conniving as the stepmother. All those things you can find in modern society too."
The production at Covent Garden has a deliberately cinematic feel. The music is by Dan Jones, who acknowledges the influence of the great Hollywood composers. (Recent work includes the music for the TV series Any Human Heart.)
"With such a dark fairytale, which we've re-set in the American mid-west, we wanted to reference the great legacy of American horror films and psychological suspense. So inevitably Hitchcock comes up and the composer Bernard Herrmann who wrote such beautiful scores for him."
Investigation of fear
Herrmann, who died in 1975, wrote music for Hitchcock classics such as North by Northwest, Vertigo and Psycho.
"The references aren't specific but subtle and general. But psychologically Hitchcock and Herrmann helped create the vessel we've put the story in.
"But American composers in the 1950s and 1960s were themselves investigating European music of the early 20th Century. So everyone learns from the best of what came before.
"And we're not slaves to the idea of making the score feel filmic or to the American setting in general. Everything has to help the story."
Jones says the new ballet is essentially an investigation of fear. "Liam's still a young choreographer but he set out the demands of the story brilliantly clearly.
"It's children's worst fears made real - the ballet's not about pantomime shock-horror effects. Hansel and Gretel are rejected from home and have no one looking after them and have to fight to survive.
"Liam has foiled simplistic takes on heroes and villains at every stage. Whenever you think you have the story sorted in your mind, suddenly there's a brilliant new twist."
Leanne Cope is one of the dancers playing Gretel. She's previously danced child roles such as Clara in The Nutcracker but says Gretel is more complex.
"She's definitely older than her years: she has to look after her father and Hansel too. But when they're trekking through the forest and when they meet the witch, she's definitely frightened and I have to show that.
The ballet is being produced at the Linbury theatre, the smaller auditorium at the Royal Opera House.
"It's a traverse staging, with the audience on either side of us. They'll be so close. You still have to play a character fully but performances need to be more pared down and cinematic."
The run at the Linbury has almost sold out, but the Royal Opera House is programming further performances early next year.
Liam Scarlett is aware he's sometimes spoken of as British ballet's "next big thing". But for now he's concentrating on making his new show work psychologically.
"I've been making my own fairytale. I've put a lot into it from what I feared most as a child. As adults we have economic fears or we fear not being able to sustain a normal life. But deep down it's the same basic emotion.
"I wouldn't really say the piece is for children at all. And I think it might open the eyes of a few grown-ups."
Hansel and Gretel runs from 8 to 11 May at the Royal Opera House's Linbury Theatre.