'Steaming' Helen Mirren defends scolding drummers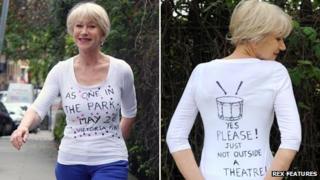 Dame Helen Mirren has defended scolding a group of drummers for interrupting her West End play The Audience, saying she had been "steaming" with rage.
"If they make the same noise, I would say the same again," she said.
The incident took place on Saturday after a parade promoting a gay and transgender festival stopped outside London's Gielgud theatre.
Participants were stunned when Dame Helen emerged, dressed as the Queen, and told them to be quiet.
"I was very cross," the actress told reporters on Monday. "I had just spent five or 10 minutes on stage trying to allow the audience to hear what I was saying, which was impossible."
She admitted she had been "very cross" and "very upset" and had used strong language to put her point across.
In a conciliatory gesture to the festival's organisers, the 67-year-old wore a T-shirt promoting the As One in the Park event, to take place at London's Victoria Park on 26 May.
The back of the shirt featured a picture of a drum, followed by the words: "Yes please! Just not outside a theatre!"
"The irony is, I love drumming and I love drummers," Dame Helen said outside the Gielgud on Monday.
"In another situation I would have been out here enjoying it with all the punters. Unfortunately I was having to do a play at the same time."
The Audience imagines the private meetings between Queen Elizabeth II and her prime ministers over the decades. It reunites Dame Helen with playwright Peter Morgan, who also wrote 2006 film The Queen.
Dame Helen, who won an Oscar for her performance in that film, was crowned best actress for her latest regal portrayal at this year's Laurence Olivier Awards.