Mixed reviews for Baz Luhrmann's film The Great Gatsby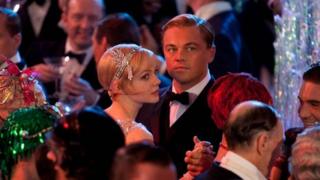 US critics have given mixed initial reviews to Baz Luhrmann's adaptation of the F Scott Fitzgerald novel The Great Gatsby, which stars Leonardo DiCaprio, Tobey Maguire and Carey Mulligan.
Luhrmann directed the film and co-wrote the screenplay with Craig Pearce.
Cannes Film Festival is opening with the film on 15 May at the Grand Theatre Lumiere of the Palais des Festivals.
It is released in the US on 10 May and in the UK on 16 May.
Hollywood Reporter
As is inevitable with the Australian showman [Luhrmann], who's never met a scene he didn't think could be improved by more music, costumes, extras and camera tricks, this enormous production begins by being over-the-top and moves on from there. But, given the immoderate lifestyle of the title character, this approach is not exactly inappropriate, even if it is at sharp odds with the refined nature of the author's prose.
At the very least, Luhrmann must be given credit for delivering a real interpretation of the famous 1925 novel, something not seriously attempted by the previous two big screen adaptations (there was a now-lost 1926 silent version).
But no matter how frenzied and elaborate and sometimes distracting his technique may be, Luhrmann's personal connection and commitment to the material remains palpable, which makes for a film that, most of the time, feels vibrantly alive while remaining quite faithful to the spirit, if not the letter or the tone, of its source.
Variety
It comes as little surprise that the Aussie auteur behind the gaudy, more-is-more spectacles Moulin Rouge and Australia has delivered a Gatsby less in the spirit of F Scott Fitzgerald's novel than in that of its eponymous antihero - a man who believes bejewelled excess will help him win the heart of the one thing his money can't buy.
What Luhrmann grasps even less than previous adapters of the tale is that Fitzgerald was, via his surrogate [narrator] Carraway, offering an eyewitness account of the decline of the American empire, not an invitation to the ball. But Luhrmann identifies far more strongly with Gatsby than he does with Nick, and instead of a tragic figure undone by his false optimism and unrequited yearning, the character becomes an object of envy - someone whose swank mansion and runway couture would be awfully nice to call one's own.
By far the liveliest work in the film comes from two actors with only a few minutes of screen time between them: the lithe, long-limbed newcomer Elizabeth Debicki as gabby golf pro Jordan Baker, and, in a single scene that marks his belated Hollywood debut, Bollywood superstar Amitabh Bachchan as the flamboyant Jewish "gambler," Meyer Wolfsheim.
The Wrap
Yes, this 2013 The Great Gatsby offers its occasional breathless moments, when we can't quite believe that Luhrmann and his talented crew are going to turn this novel into a soaring, candy-coloured phantasmagoria, but once his agenda of swooping camera movements and gleaming roadsters and anachronistic music takes full hold, there's nothing left to fall back on - not even Fitzgerald's prose, much of it quoted directly throughout, is enough to keep this adaptation from feeling like a stunningly expensive advertisement for the Brooks Brothers collection of Gatsby-inspired duds.
The Great Gatsby is an immortal American tragedy, but the story's impact gets completely buried in Luhrmann's flash and dazzle.
It doesn't help that the cast feels like they're in different movies - and none of them are movies you'd particularly want to see. The blank and reactive Maguire and Mulligan are cast as the blank and reactive Nick and Daisy, the result being such a vortex of nothing that they threaten to disappear from the screen entirely...
DiCaprio has a fluctuating accent that often sounds like it's being delivered through a mouthful of marshmallows. DiCaprio's utterances of Gatsby's pet endearment "old sport" become more and more cringe-worthy with each repetition.
Indiewire
The Great Gatsby is a guilty pleasure, a swirling, audacious piece of cinema - in 3-D! -that could prove a crowdpleaser for young audiences. Set during the Roaring Twenties, the classic F Scott Fitzgerald novel has been a fave of high school and college kids for decades. It plays young, partly because it's about young people in love - or their idea of love, which judging from this latest take on the story, makes people incredibly stupid.
This is the kind of film where you hum the sets, as they say in Hollywood. It's outrageously designed by Luhrmann's wife, brilliant production designer Catherine Martin, who delivers the Gatsby manse's shining turrets, gleaming parquet floors, elaborate chandeliers and a mighty gold Wurlitzer organ, but should also earn an Oscar nomination for her gorgeous over-the-top costumes, including the Daisy Buchanan show-topper, a chandelier party dress designed by Miuccia Prada.