Country star George Jones funeral held in Nashville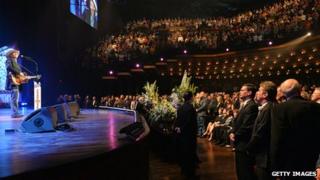 American country singer George Jones, who died at the age of 81 last week, has been laid to rest in Nashville.
The Grammy-winning singer died on 26 April, after being admitted to hospital for fever and irregular blood pressure.
More than 4,000 fans and friends gave a standing ovation for Jones's hit He Stopped Loving Her Today, at a public funeral at the Grand Ole Opry House.
"We've had few sounds more lovely than the voice of George Jones," said former First Lady Laura Bush at the service.
Hitmaker Alan Jackson led the rendition of Jones's most famous song, which closed the memorial.
Country stars Tanya Tucker, Randy Travis, Kid Rock, Kenny Chesney and Wynonna Judd were also among those performing at the service, which lasted nearly three hours.
Travis paid tribute to his old collaborator with an acoustic rendition of Amazing Grace. "When I heard him do this song, it literally gave me chills," he told the crowd.
Singing couple Garth Brooks and Trisha Yearwood paid their respects to Jones alongside country stars Barbara Mandrell and Kenny Chesney.
Singer Brad Paisley gave a tribute to Jones, hailing him as a musician whose legacy would live on and inspire others.
"You must be thinking, 'Boy, they're making a ruckus','' Paisley said. "I would encourage you if you don't know him, go find him now. Go buy his records and see what all this ruckus is about because it's worth it."
The Grand Ole Opry House is home to America's longest-running radio show, titled The Grand Ole Opry.
Jones joined the cast of the Grand Ole Opry in 1956 and went on to enjoy success with hits including White Lightning, A Good Year for the Roses, Who's Gonna Fill Their Shoes, The Grand Tour and Tennessee Whiskey.
He was married four times, including for six years to Tammy Wynette, between 1969 and 1975, during which time the pair recorded several songs together.
He credited his fourth wife Nancy, whom he married in 1983, with helping him battle alcoholism and cocaine addiction.
Prior to his death, he was in the middle of a farewell tour that was to reach its conclusion in November in Nashville.
However, amid ongoing health concerns, he postponed two performances a fortnight ago and was admitted to hospital with a fever and irregular blood pressure shortly after.