Cannes adds Jim Jarmusch vampire film to line-up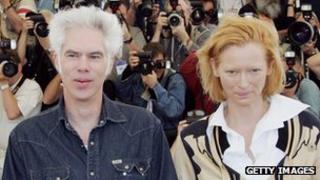 Only Lovers Left Alive, the latest film from US director Jim Jarmusch, has been added to the official competition line-up at this year's Cannes Film Festival.
British stars Tilda Swinton and Tom Hiddleston take the lead roles in the horror romance, about two vampires who have been in love for centuries.
It will compete with 19 other films for the prestigious Palme d'Or award at the festival, which runs from 15 to 26 May.
Jarmusch was last up for the prize in 2005, with Broken Flowers.
Swinton had a small role in that film, which starred Bill Murray as an ageing bachelor who discovers he has an adult son.
Jarmusch is best known for such '80s "indie" films as Stranger than Paradise, Down By Law and Mystery Train.
The 60-year-old has been shortlisted for the Palme d'Or on five previous occasions but has yet to receive Cannes' top honour.
John Hurt, Jeffrey Wright and Mia Wasikowska also feature in the cast of Only Lovers Left Alive.
Other films in competition this year include Only God Forgives, which stars Ryan Gosling; Roman Polanski's Venus in Fur and the Coen Brothers' latest film Inside Llewyn Davis.
Organisers have also added Claude Lanzmann's documentary Le Dernier des Injustes (The Last of the Unjust) to this year's official selection.
It is believed the film, which will screen out of competition, will follow on from the 87-year-old's most famous work, 1985 Holocaust documentary Shoah.