Post-9/11 drama explores divided loyalties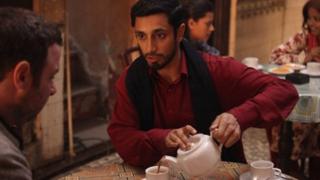 "Living in America, in the 10 years since 9/11, it has been very disturbing to see how little we know of the other side," says Mira Nair, whose new film The Reluctant Fundamentalist opens in the UK this week.
As a resident of New York City during the terrorist attacks of 2001, the Indian director is keenly aware of how that day brought suspicion and division to multi-cultural communities around the world.
"I didn't experience the sort of hostility you see in the film, but I definitely felt like 'the other' in a city where I have never felt anything but at home."
It's that sense of identity - of belonging, and not belonging - that she explores in her latest film.
Based upon Mohsin Hamid's Booker-shortlisted 2007 novel, it tells the tale of Pakistani-born Changez Khan, a Princeton graduate and Wall Street hotshot living in Manhattan, who is forced to re-examine his loyalties after the attack on the Twin Towers.
"I wanted very much to speak of this time that we have gone through, but to speak of it from both sides," explains Nair, one of whose other films, the award-winning Monsoon Wedding, hits Broadway in musical form next year.
'Global film-maker'
"We have had so many films about Americans who go and fight in the name of freedom - in Afghanistan or Iraq - and the impulse is 'either you are for us or against us'.
"The other side is constantly either demonised or presented in a most reductive, simplistic and hysterical way.
"But actually the reality is so far from that, and it's the human being that is at the centre of both worlds - and that is forgotten."
Nair, whose films have encompassed an English literary classic (Vanity Fair), an American icon (Amelia) and street children in Mumbai (Salaam Bombay), is "a truly global film-maker".
That's according to her latest leading man Riz Ahmed, an actor well placed to explore "our shifting sense of self".
"These days we occupy lots of different social circles concurrently," explains Ahmed, arguably best known for his role in British comedy Four Lions.
"That sense of who you are, changing - from one context to the next - is, I think, the central emotional thread for Changez as a character."
"He feels like he is a different person in Pakistan, a different person in New York, a different person with Erica [his girlfriend], a different person with Jim [his boss].
"I grew up between classes and cultures," says the London-born Oxford graduate. "For me that really resonated."
The novel - told in monologue style as Changez relates his personal story to an unidentified American in a Lahori tea house - was acclaimed for its ambiguity and contradictions.
'Political meditation'
The premise suggests it is the story of a young Muslim radicalised by American bigotry, but the film's resolution - like the title - is deliberately ambivalent.
"People will bring preconceptions to [the film] and walk out with different conclusions," says Ahmed. "That, for me, is the mark of a complex piece of work and I am really proud of that."
"It's a coming-of-age film, it's a thriller, it's a political meditation," says Ahmed. "But also it just a really personal story about working out who you are."
Interestingly, the first draft of the book was written - and rejected by publishers - before the events of 11 September 2001.
Hamid reworked the story to include the attacks, and Nair believes it is its "complicated and unflinching reaction to 9/11" that gives the story its power.
Changez's myriad emotions are crystallised in the film in a scene where he watches the collapse of the Twin Towers on television during an overseas business trip and momentarily smiles before registering the full horror of the tragedy.
"That is very brave and very interesting... something that people might have thought or felt, but never said," says Nair.
'Contemporary' Pakistan
The director, who was raised in modern India, cites Lahore as "her inspiration" for making the film.
"I went to Lahore for the first time in 2006 and was deeply moved by my journey there," says Nair, whose father was born in the city before partition.
"It is not the Pakistan that one reads about in the newspapers. It is a city of great largesse, great art... and the people are extraordinarily generous.
"I resolved to make a film about contemporary Pakistan."
Reading Hamid's manuscript provided "a dialogue with America - two worlds that I, of course, knew intimately," she adds.
While it remains a respectful adaptation - with lots of input from the author - the director owns up to one significant change, in the shape of Changez's girlfriend Erica, as played by Kate Hudson.
"In the book Erica is defeated by life... she literally disappears because she is so involved in the memory of her dead boyfriend.
"But I just can't make films about women who are defeated by life," says Nair, whose on-screen protagonists have included the Machiavellian Becky Sharp and the gutsy Amelia Earhart.
"I like to make characters that are those I want to be with. However complicated, or prickly, or neurotic - I am attracted to those who live life completely.
"I love those who rail against what is supposedly the norm, who question that and who take action to embody that in their lives - whether in folly or triumph, that is the life I get inspired by."
The Reluctant Fundamentalist opens across the UK on 10 May.