Poet Laureate's ballet wins north-east Culture Award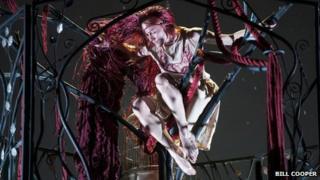 A ballet written by Poet Laureate Carol Ann Duffy has been honoured at an arts awards ceremony in Durham.
Duffy's ballet Rapunzel was named best performance at the Journal Culture Awards, which celebrate the best arts events in the north-east of England.
Rapunzel was created by the Newcastle-based balletLORENT and had its premiere in Durham last October.
But despite the success, balletLORENT is to auction props and costumes in an attempt to secure the company's future.
Founder Liv Lorent told BBC Radio Newcastle: "It's harder than ever now and, understandably, there are cutbacks.
"We have to think really in very new and smart ways about how to ensure survival and how to ensure that we are producing work that people can afford and want to see.
"We have to find a way of keeping the company going and think of ever more innovative ways to support that infrastructure."
The auction takes place on Friday.
The Journal Culture Awards ceremony was billed as a celebration of the region's arts after a year in which cultural venues in Newcastle and beyond received cuts from local councils and the Arts Council.
Other award winners included Peace Camp, an art installation made up of illuminated tents, which won best event.
Dunstanburgh Castle on the Northumberland coast was one of eight locations around the UK where the incandescent encampments were erected as part of the Cultural Olympiad.
Comedian Jason Cook was named writer of the year for his BBC Two sitcom Hebburn, while Richard Rigg took the prize for visual artist of the year.
Folk group The Unthanks, who were among the performers at the ceremony at Durham Cathedral, won a special Arts Council England award for their song suite inspired by the history of shipbuilding in the north-east.
The awards, now in their seventh year, are handed out by the Newcastle Journal newspaper.
The ceremony was also timed to coincide with the launch of the Festival of the North East, which is bringing together a raft of theatre, music and art events in June.