Hilary Mantel and Zadie Smith up for women's fiction prize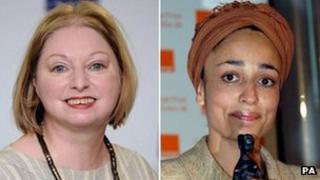 Hilary Mantel and Zadie Smith are among the authors up for this year's Women's Prize For Fiction, the UK's only annual book award for female fiction writers.
Smith, shortlisted for her novel NW, is a previous recipient of the prize, as is fellow nominee Barbara Kingsolver.
Kate Atkinson, AM Homes and Maria Semple have also made it onto the 2013 shortlist.
Formerly known as the Orange Prize, the £30,000 award - now in its 18th year - will be presented on 5 June.
If Mantel wins the prize for her historical novel Bring Up the Bodies, she will become the first person to win all three of the UK's major book prizes.
Her acclaimed novel, a follow-up to 2009's Wolf Hall, won the Man Booker Prize last year and was named Costa Book of the Year in January.
Bookmakers William Hill have made Mantel 6/4 favourite to win the prize, with Kate Atkinson second favourite at 4/1.
Actress Miranda Richardson, chair of this year's judging panel, said she had been "a little bit nervous" about shortlisting Mantel's book, fearing there might be a backlash.
"But I was hopeful that excellence would win out in her case," she told the BBC after the announcement.
"If something is brilliant, you have to give it its due."
Smith's nomination - her fourth - follows her inclusion this week on Granta's latest list of Britain's 20 brightest young writers.
The newest name on the shortlist is American writer Semple, who is shortlisted for her second novel Where'd You Go, Bernadette.
Kingsolver and Homes, who are also American, are shortlisted for their novels Flight Behaviour and May We Be Forgiven respectively.
Atkinson, who previously made the Orange Prize longlist in 2005, makes this year's shortlist with her eighth novel Life After Life.
According to Richardson, the even split between US and UK writers "wasn't deliberate" and that all 20 books on the longlist has been given "absolutely due weight".
"There is no agenda behind this at all," she continued, describing the six selected titles as "the ones that shone through, that stayed with you, that sustained you as a reader".
This year marks the first time that the shortlist includes two previous winners of the Orange Prize.
Kingsolver was recognised in 2010 for The Lacuna, while Smith won in 2006 for On Beauty.
The winner will receive a cheque for £30,000 and a bronze statue, known as the 'Bessie', created by the artist Grizel Niven.
The award is being funded privately this year by donors after Orange ended their 17-year sponsorship deal.
In addition to Richardson, this year's judging panel includes journalist and former editor of The Lady Rachel Johnson, author Jojo Moyes and writer Natasha Walter.
Any woman writing in English is eligible for the award, regardless of her nationality, country of residence, age or subject matter.
Jonathan Ruppin, web editor for booksellers Foyles, said the panel had "come up with a staggeringly strong shortlist.... dominated by writers who have honed their craft through many acclaimed novels".
His personal tip was Homes' May We Be Forgiven, which he called "poignant, blackly humorous and a ground-breaking portrait of an America turning to nostalgia".