John Legend talks 'Love In The Future'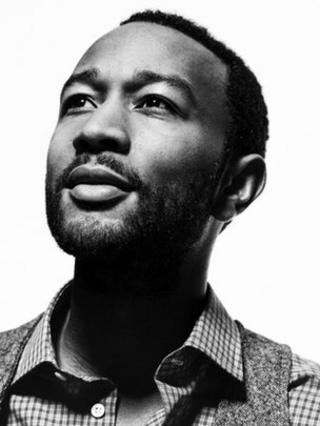 Soul star, political activist, reformed lothario, Scrabble addict - John Legend has a lot going on.
As the singer-songwriter puts the finishing touches to his fourth solo album, Love In The Future, he took time out to tell the BBC about the inspiration for the record, working with Quentin Tarantino, and how he gets distracted in the studio.
"The overwhelming majority of soul music is about the pursuit of intercourse."
John Legend is feeling frisky.
He's about to marry his girlfriend of six years, Sports Illustrated model Christine Teigen, and his new album is endearingly lovestruck.
"All of me loves all of you," he croons on the standout ballad. "All your perfect imperfections. Love your curves and all your edges".
"The overwhelming sensibility is one of optimism," he confesses. "She's definitely affected my songwriting."
And it's quite a change. Legend's first three albums are boudoir masterpieces - ranking alongside Prince and Barry White for smooth "Girl, let me break it down for you..." seduction.
But his love songs have always been bittersweet. Even Ordinary People, Legend's signature song, is laced with doubt and regret.
"This ain't no fairytale," he sings. "I know I misbehaved."
It turns out those lyrics made a particular impact on his bride-to-be.
"She made a joke: 'No more cheating songs,'" he laughs. "Because my first album had a few..."
He's certainly trying to make amends: "Last night was the last night you'll ever spend alone," he tells his fiancee on the soaring opening track, The Beginning.
Talking to the BBC during a promotional trip to London, he paints a picture of domestic bliss.
"You become best friends. You're intimate best friends but you're best friends. You have friends in common, you throw big dinner parties. That's part of being in a relationship."
Legend's dinner parties ("I'm good at mac and cheese!") presumably have a guest list to rival the Grammys. Over the last decade, he's been Kanye West's go-to guy for soul hooks; and he's appeared on records with Jay-Z, Lauryn Hill, Mariah Carey, Alicia Keys and Outkast's Andre 3000.
"We all know each other. A lot of us are friends," he says. "It's like it's an extension of all the artsy kids in high school that know each other and are friends. Just on a bigger, broader scale."
On a practical level, that means creative collaborations happen "almost at random".
"If you're in Los Angeles or London, a lot of chance encounters can happen. You'll be in a building that has maybe three other studios, and you'll see Pharrell walking through the hallway, and maybe he'll pop in and something random will happen that'll wind up being on the album."
Tarantino tune
One of the collaborators on Legend's new album is British producer Paul Epworth, best known for his work on Adele's 21.
Pairing up in London, the duo immediately struck gold with a sly, sweaty funk track called Who Did That To You?
It was instantly earmarked for inclusion on Quentin Tarantino's Django Unchained soundtrack. The only problem being, Tarantino never uses original compositions in his films.
"I'd heard Django was in production," says Legend. "The script had been floating around Hollywood for a bit - and so I wanted to write a song about it.
"I submitted it to Quentin after the fact.
"He likes to listen to music on a cassette. One of my managers' husbands is an audiophile, and he still has audio tapes at home, so he made a cassette for me to give to Quentin.
"He listened to it in his car and loved it, and he put it in the film."
In fact, the song is almost the centrepiece of the movie, appearing at length during one of the most pivotal scenes.
What did Legend, who studied African-American literature at University, make of the controversy surrounding Tarantino's grand slavery epic?
"If you thought that movie was going to accurately explain the ins and outs of African-American slavery, I think you came into it with the wrong expectations," he says.
"[But] you saw real brutality... No-one could walk away from that movie thinking slavery was a picnic."
Legend is eloquent and thoughtful on these issues, as befits a man whose last album, Wake Up, revived a dozen classic protest songs, drawing comparisons between the social divides of the 70s and post-Obama America.
His new album might put the focus back on baby-making ballads, but he's still fired up by US politics.
"I'm engaged in the conversations that go on," he says. "I campaigned for the president, I go out and speak about education reform."
The public dissatisfaction with Obama's presidency is something that worries him. Putting the country back on its feet, he argues, can't happen overnight.
"Change happens gradually. For example, in America right now we have the Supreme Court hearing on gay marriage. You've seen a pretty steady change in public opinion on gay marriage [but that's] due to activism that started decades ago. So there is real progress.
"Sometimes it's slower than activists might want, but their work does move the needle, I think."
Does he feel the new album is missing a political element?
"People don't really want to hear it that much," he says. "But even if you look back to the greats who did make social statements, still the bulk of their work was love songs.
"Look at Stevie Wonder or Marvin Gaye. He had What's Going On but, aside from that, he mostly made sexy love songs."
So, sexy love songs it is... Assuming he manages to finish the new album in time for its June release date.
"You're my muse [and] my worst distraction," he tells Teigen on All Of Me.
"That's definitely true," he laughs. "I have to go to the studio to write. I don't just hope it occurs to me to do it!"
Even locked up in the recording booth, he finds it hard to concentrate.
"I'll text, I'll be on Twitter. There's any number of distractions." Chief of which, he says, is the iPhone app Words With Friends, an online clone of Scrabble.
"My best word score? It's probably 140 or something. It's pretty big."
Right now, the musician is hunkered down in his recording studio, putting the finishing touches to Love In The Future. With a May deadline looming, he might have to "accidentally" lose his phone.
"I don't want the album to be all over the place, creatively anchorless," he says.
"When you buy a John Legend album, I want it to sound like me."
Love In The Future will be released in June. John Legend's new single Who Do We Think We Are is out now.