Olympic satire, ceremony and TV coverage up for Baftas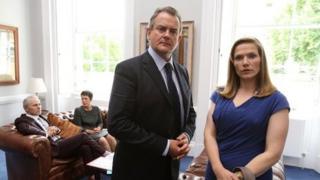 BBC Olympic satire Twenty Twelve, which lampooned the Games organisers, has had four nominations for 2013's TV Baftas.
BBC Hitchcock drama The Girl also has four nominations, along with Accused and Last Tango in Halifax.
The Sport and Live Event nominations include the Olympic opening ceremony, Super Saturday on BBC One, Channel Four's Paralympic coverage and the Wimbledon 2012 Men's Final.
The Girl's Sienna Miller and Toby Jones are up for best actress and actor.
Sarah Lancashire is up for best supporting actress for her portrayal of Caroline in the BBC romantic drama series Last Tango in Halifax.
The series, which tells the story of teenage sweethearts reunited through Facebook 60 years later, is also nominated in the best drama series category.
Imelda Staunton received a best supporting actress nomination for her role as Hitchcock's long-suffering wife in The Girl. It is also in contention for best single drama.
There are two nominations for Peter Capaldi, who is up for best actor for BBC Two's 1950s newsroom drama The Hour.
He has also been nominated for best male performance in a comedy programme for his role as foul-mouthed spin doctor Malcolm Tucker in The Thick Of It, which is also in the running for best comedy along with Episodes and Hunderby.
Steve Coogan's return as Alan Partridge in Welcome To The Places Of My Life is also nominated for best performance in a comedy programme, along with Inbetweeners star Greg Davies, who is recognised for Cuckoo.
Sheridan Smith has had her first Bafta nomination in the best actress category for her portrayal as Mrs Biggs, based on the true story of the wife of the Great Train Robber, Ronnie Biggs.
Completing the line-up for best actress is Rebecca Hall for Parade's End. The BBC World War I drama is also up for best mini-series along with Room at the Top and Mrs Biggs.
Sean Bean is nominated for his performance as transvestite Tracie in Accused, the BBC drama series which follows people accused of crimes as each awaits the verdict of their trial.
His co-star Stephen Graham is also up for best supporting actor while Olivia Colman gets her second nomination for her role as Sue in another instalment of the series, Mo's Story.
The show, created by Jimmy McGovern is also in the running for best mini-series.
Also in the best actor category is Derek Jacobi for Last Tango in Halifax. He takes on Ben Whishaw, who is recognised for his performance as Richard II in the Hollow Crown series of adaptations of Shakespeare's history plays. The programme is also nominated for single drama.
In the international category, Sky's fantasy epic Game Of Thrones is in the running for best show, along with The Bridge, Girls and espionage thriller Homeland.
ITV's Exposure: The Other Side of Jimmy Savile is nominated in the current affairs category alongside Panorama - Britain's Hidden Housing Crisis on BBC One, The Shame of the Catholic Church from BBC Two and Al Jazeera's What Killed Arafat.
Last year's best feature winner, The Great British Bake Off, is in the running again. It will compete against Paul O'Grady: For the Love of Dogs, Grand Designs and Bank of Dave.
The awards ceremony, hosted by Graham Norton, will be held at the Royal Festival Hall, on London's South Bank, on Sunday 12 May and broadcast on BBC One.