Bonnie's high hopes for Eurovision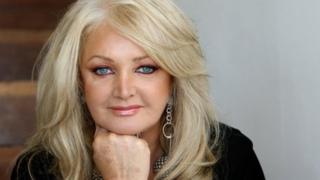 Bonnie Tyler is set to represent the UK at this year's Eurovision Song Contest in Malmo, Sweden. The Welsh rocker talks about keeping secrets, turning down the job before and how she rates her chances.
"I didn't think the song was good enough last year," Bonnie Tyler says, referring to the UK's Eurovision effort in 2012.
"Engelbert [Humperdinck] is a superstar, but I don't think the song was strong enough for him."
Humperdinck's entry, Love Will Set You Free, finished a disappointing second from last with just 12 points. This year, Tyler is confident her power ballad, Believe In Me, will fare much better.
The song has been written by US songwriter Desmond Child - famous for penning Ricky Martin hits Livin' La Vida Loca and She Bangs - along with British writers Lauren Christy and Christopher Braide.
"We've got a chance with this song - it written by a world class songwriter," Tyler says. "I know there are some other good songs, but hopefully we'll do better than last year."
A topic of much secrecy, the UK entry was intended to be revealed on 18 March - the deadline for countries to reveal their entrants - however Tyler's identity was leaked by a national newspaper two weeks early.
Having been appointed at Christmas, the singer says she kept the news to herself with great difficulty and was glad when the cat was finally out of the bag.
"It was a bit of a relief because I could tell my family," she says. "I didn't dare tell anybody - my sisters and brothers knew, but none of the children because we were afraid it would get on Facebook so they were sworn to secrecy. It didn't leak in Wales I can assure you!"
It's not the first time the 61-year-old has been considered for the job of representing the UK at Eurovision - she was approached in 1983 at the height of her fame but turned it down.
Having just topped the charts in both the UK and US with her megahit Total Eclipse of the Heart, Tyler says she was simply too busy to do it.
"I was living in America at the time and I was working like hell," she says. "But now's the perfect time because I've got a new album."
European fans
It was thanks to her 16th studio album, Rocks and Honey, that put the singer on the radar of the BBC's Eurovision producers.
A mix of power ballads and country songs recorded in Nashville, Tyler believes it's the best album she's made since the 1980s.
Sent to the BBC to "put the feelers out" for initial reaction, Believe In Me was picked out as a possible UK entry and producers approached Tyler again.
Then came the task of recording a video to accompany the song - shot on a beach in East Sussex in the freezing cold.
These days, the singer spends most of the year living in a considerably warmer Portugal.
Although she has been largely out of the UK music charts since the early 1990s, Tyler has maintained a presence in Europe - especially in Germany, France and Scandinavia - with almost all of her last eight albums hitting the top 40.
The question is whether her European fan base will vote on the night.
"I'm lucky with my fans, they're very loyal to me," she says. "They all reckon they're going to vote, so I hope they're going to - I think it will help boost my chances.
"I'm not counting my chickens though. I hope I will have a respectable score but if I don't, I've been in this business too long to take it personally. There's no point in taking yourself too seriously - we're all in it to win it, but it's not going to break my heart if I don't win."
Despite the inevitable political voting by some countries, Tyler believes the best songs will still have the greatest chance of winning.
But she won't be employing any gimmicks that past UK Eurovision entrants have used - it will just be two guitarists, a drummer and a backing vocalist on stage with her.
"Who'll ever forget Bucks Fizz when they whipped off their skirts? I won't be doing any of that by the way!" she laughs. "There won't be any quirky Velcro things going on, it'll just be the performance of the song."
In the meantime, the singer is preparing herself for the two weeks while she's in Sweden ahead of the contest.
"I'm told your feet don't touch the ground when you're over there because it's a city of press and you're pulled everywhere. It's going to be a bloody hard week, all that talking and still hopefully keeping your voice for the show."
Welsh singers have fared reasonably well for the UK at Eurovision - Jessica Garlick finished third in 2002 and 16-year-old singer Emma came sixth in 1990, although James Fox finished 16th out of 22 in 2004.
So how does Tyler rate her chances?
"I'm going to give it a hwyl [pronounced "hoyle"] as we say in Wales - I'll give it my best shot," she says.
"It's a pity you can't vote for your country though, because I'm from such a big family we'd be half way there!"
Rocks and Honey is out now. The Eurovision Song Contest is on 18 May on BBC One.