ITV rapped over Charlie Brooks' I'm a Celebrity stunt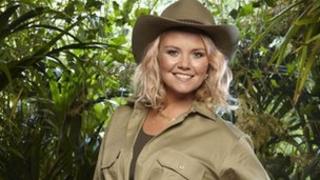 ITV has been censured by the media regulator over a stunt on I'm a Celebrity...Get Me Out of Here!, involving the seven-year-old daughter of EastEnders actress Charlie Brooks.
Ofcom received 66 complaints from viewers who described the Door to Door challenge as "exploitative".
In it, Kiki Brooks hid behind one of a number of doors while her mother chose which one to open to find treats.
But the actress missed out on the reunion as she picked the wrong door.
Following an investigation, Ofcom published a ruling on Monday saying it had "serious concerns" about Kiki's appearance in the adult reality programme.
Distress
The ruling said ITV had breached the broadcasting code by not reassuring viewers that Kiki had been given support by production staff as part of the trial.
ITV said the decision to include Kiki in the Door to Door challenge was taken "after careful consideration" of the welfare of both the celebrities and family members concerned.
"In particular, the possible emotional impact on Kiki of having an opportunity to meet her mother, given this would be denied should her mother be unsuccessful in the challenge, was considered carefully," said the broadcaster.
After realising she came so close to seeing her daughter, Brooks, who plays Janine Butcher in EastEnders and eventually went on to win the reality competition, was shown to be distressed, telling viewers that she was heartbroken, which Ofcom said "served to increase the potential offence caused in this case".
"In our view, the appearance of a seven-year-old child placed in such a scenario would have gone beyond the likely expectations of the audience for this programme, which rather would have expected consenting adults to participate in the challenges featured on I'm a Celebrity...," it added.
While ITV said Kiki was "understandably disappointed, but in no way unduly distressed" by missing out on the chance to see her mother, Ofcom found "a significant level of offence" would have been caused by the decision to involve the young child in the programme, regardless of her demeanour on screen.
The media regulator also disagreed that an exchange between presenters Anthony McPartlin and Declan Donnelly, following the challenge, in which they said Brooks and Kiki would be reunited within days, was not enough to justify any offence caused by the challenge.
The broadcaster said Kiki had visited the set and was being cared for by her grandmother, who had given consent for her to be included in the segment. However, viewers were never told.
Ofcom said had this information been provided, it "might have served to help reassure the audience and so reduce the offence".