BBC's Fake or Fortune appeals to find missing Vuillard painting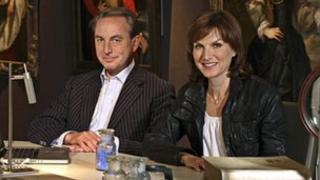 BBC TV programme Fake or Fortune has launched an appeal to find a painting that could be worth up to £250,000.
The painting, which could be by French post-impressionist Edouard Vuillard, was last seen around eight years ago.
It was sold for £3,000 on online auction website eBay according to the team, headed by presenter Fiona Bruce.
"This is not a painting you could easily lose in your attic," said art dealer Philip Mould, who is helping to locate the missing art work.
"Its size and atmospheric subject matter make it both important and memorable. The likelihood is that it is decorating some wall somewhere, its history and identity unknown to its owners," he added.
The painting, which is just over four feet high and three feet wide, depicts a couple sitting in a bar drinking champagne and eating oysters.
"It's tremendously exciting to think that we might be able to uncover a lost work of art" said Bruce.
The last known owners of the picture are a British couple who bought it from a house clearance sale in Suffolk in 1999.
The buyer's identity remains a mystery but he or she is believed to be Italian, French or possibly Swiss.
Vuillard's painting Les Couturieres sold for more than £5m in a Christie's auction in 2009.
The Fake or Fortune team, which has helped authenticate works by artists Degas, Turner and Van Dyck, is appealing for information for a future episode of the BBC One series.
Anyone with information should contact fakeorfortune@bbc.co.uk