Croods retains top spot at UK box office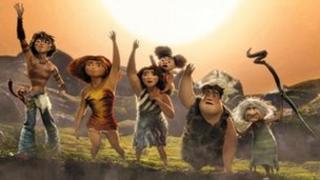 Caveman cartoon The Croods has topped the UK and Ireland box office chart for a second successive week.
The Dreamworks animated feature about a prehistoric family who are forced to abandon their cave pulled in £3.3m between Friday and Sunday.
The Croods easily held off Bruce Willis' action figure-inspired sequel GI Joe: Retaliation, which debuted at number two with £2.8m.
Danny Boyle's Trance is third after taking £1.6m in its opening week.
The thriller stars Rosario Dawson as a hypnotherapist attempting to help James McAvoy's amnesiac art thief remember where he hid a stolen masterpiece.
The Croods, which features the voices of Nicolas Cage and Emma Stone, started out in 2005 as a co-production with British animators Aardman, scripted by Monty Python's John Cleese.
Dreamworks took over the project - originally titled Crood Awakening - when Aardman's five-film deal was curtailed after just two productions with the US studio.
Elsewhere, other new releases in the top 10 include US science fiction film The Host, a new entry at number five with £991,000, and Finding Nemo 3D, which took £265,000 to claim the number nine spot.
Wreck It Ralph finally slipped out of the top 10, but the arcade-based animation has now taken £22.6m since its release eight weeks ago.