Lee Mack reveals Not Going Out has two different endings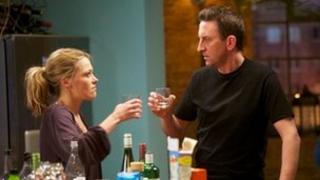 Fans of the BBC One comedy Not Going Out may finally see the friendship between landlady, Lucy, and her flatmate develop into romance.
The sixth series, starring Lee Mack and Sally Breton, is due to air on 5 April.
Mack, who plays unemployed lodger, Lee, has revealed that two versions of the final episode have been filmed.
Speaking on BBC Radio 4's Front Row on Friday, Mack said: "We are sure now what we're doing, but we weren't for a long time.
"Every series we have the conversation, 'right, should we make this the series where we get together?' And in fact this series - for the first time ever - we filmed two endings to the series.
The Bafta-winning comic said he didn't want to give too much away, but admitted "it was quite interesting" filming both versions.
"I'll just say there's two versions and people can do the math," he added.
Lee's affections for Lucy first came to light in series two, but despite arranging dates and kissing under the mistletoe, the pair have never quite managed to get it together.
"The problem we've always got is if we go out, then what little format we have is gone," Mack joked, during the Front Row interview.
But he agreed that next year, fans "could be" seeing the first series of Going Out.
"Or," he added, "we could be seeing the seventh series of Not Going Out!"
Front Row is on BBC Radio 4 on Friday at 19:15 GMT.