Hitler actor Bruno Ganz to play Pope in TV pilot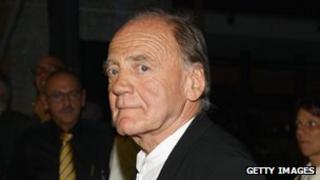 Actor Bruno Ganz, who played Hitler in the 2004 film Downfall, is to play a fictional Pope in a new US TV drama.
The Vatican has been commissioned by cable channel Showtime, and will see blockbuster film-maker Sir Ridley Scott direct his first TV pilot.
The contemporary thriller about life inside the institution will also star Scottish actor Ewen Bremner and Pushing Daisies star Anna Friel.
House writer Paul Attansio has written the one-hour pilot script.
Showtime said Ganz's character, Pope Sixtus VI, will be of German ancestry who is "an unassuming and introspective caretaker of the church, who struggles with his own legacy, and how history will judge his papacy".
Super 8 and Argo actor Kyle Chandler will play progressive New York Cardinal Thomas Duffy, while Friel will star as his secular, hard-living sister.
Production is expected to begin shortly.
Downfall, which told the story of Hitler's final days in his Berlin bunker, grossed $92m (£60.8m) at box offices around the world when it was released.
The film was named winner of the BBC Four World Cinema Award, but since then it has become almost as famous for a wave of internet parodies of its final scene, poking fun at numerous news events.
Swiss-born Ganz's other credits include The Reader and The Manchurian Candidate.