Morrissey postpones show due to double pneumonia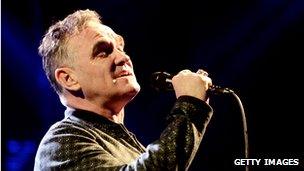 Morrissey has postponed another concert in the US due to double pneumonia, his publicist has said.
The ex-Smiths frontman had been due to play at the Regency Ballroom in San Francisco on Saturday.
The 53-year-old has now cancelled or postponed 21 gigs so far this year due to ill health.
Publicist Lauren Papapietro denied initial media reports the singer had been admitted to hospital to be treated for his condition.
The singer's fan site said he was being treated in San Francisco, however Ms Papapietro said: "Morrissey is not/was not hospitalized."
The Regency Ballroom gig has been rescheduled for 1 May and Morrissey's official Facebook page said all tickets previously purchased will be honoured on the new date.
The Heaven Knows I'm Miserable Now singer was treated in a Michigan hospital in January for a bleeding ulcer.
In recent months the animal rights activist, who made his return to the stage last month at a meat free show at the Staples Center in Los Angeles, has also suffered from throat condition, Barrett's oesophagus, and anaemia.
His current tour is due to resume on 14 March, where he will co-headline the Vive Latino Festival in Mexico.
Health permitting, he will then return to the US, with shows in the diary throughout March and April.