Jack Rosenthal's 'lost' George Best script staged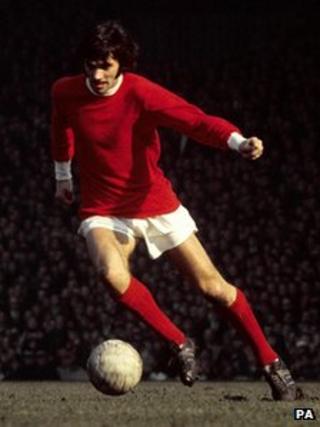 A "lost" script about the downfall of football legend George Best by writer Jack Rosenthal is to be given its world premiere in a pub theatre in Manchester almost 30 years after it was written.
Rosenthal, one of the UK's leading writers, penned The Best for a film in 1985, but the movie never got made.
The script has been rediscovered in Rosenthal's archive and put on stage at the 30-seat Lass O'Gowrie pub.
Actress Maureen Lipman, Rosenthal's widow, said the play was "wonderful".
George Best is widely regarded as one of the greatest footballers to have graced the British game.
But the Manchester United icon's lifelong battle with alcoholism led to drink-driving, bankruptcy, a liver transplant and eventually death, aged 59, in 2005.
Rosenthal, a giant of British drama and a Manchester United fan, spent time with Best and his first wife Angie while researching his script.
"Jack sat with Angie and George for several weekends and got the stories," Lipman said.
The story begins in a clinic where the footballer is looking back at his life and facing his demons with a psychiatrist.
The script was which was intended for the film studio Columbia. Lipman said Rosenthal wanted to write the story of Best "coming up against himself in a drying-out clinic". But the studio wanted him to turn the tale of George and Angie into "the greatest love story ever told".
"So somehow they didn't do it," said Lipman, who has given her blessing for the script to be adapted for the stage and recently sat in on rehearsals.
"It really, really surpassed my expectations," she said. "I did not expect to laugh as much or be touched in the way I was.
"I think if Jack had been sitting beside me in that dingy back room at the Lass O'Gowrie - which of course he was - he would have been as thrilled as I was."
Rosenthal, who died in 2004, won three Bafta TV Awards in the 1970s, penned 129 classic episodes of Coronation Street and co-wrote the feature film Yentl with Barbra Streisand.
After his death, Lipman donated Rosenthal's papers to Sheffield University, where the script for The Best was spotted by the Lass O'Gowrie landlord Gareth Kavanagh.
"There it was - a first draft with all his hand-written notes of his meetings," Mr Kavanagh said. "It was ready to produce."
Mr Kavanagh had already recreated some of Rosenthal's vintage Coronation Street episodes on the pub's stage with Lipman's permission.
He said The Best was "a very clever story", adding: "What was so amazing about it, and this is where writers like Jack never lost their craft, was that even though it was going to be a Hollywood screenplay, it was still a small piece.
"It didn't have a huge cast, it didn't have a huge number of location changes. So it wasn't like trying to stage Avatar in a small room. I felt it was suited more to the stage than as a screenplay."
The Best runs at the Lass O'Gowrie from Tuesday to Saturday. Lipman said she hoped the story could then go on to be staged in bigger venues.
This is not the first time George Best's story has been told on the stage - a musical titled Dancing Shoes opened in Belfast in 2010.