Oz conjures up magic numbers at US box office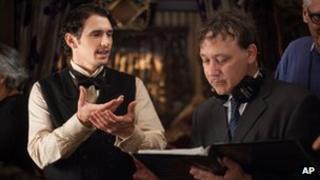 Wizard of Oz prequel Oz the Great and Powerful did not need Dorothy and Toto to conjure up magic numbers at the US and Canadian box office this weekend.
Sam Raimi's film claimed the top spot with an $80.3m (£53.7m) tally, more than any movie has made on its North American debut so far this year.
Oz was a wiz outside the US and Canada as well, amassing almost $70m (£47m) in other territories.
Last week's top title, Jack the Giant Slayer, came a very distant second.
After topping the North American box office chart last weekend with a $28m (£18.7m) haul, Bryan Singer's fantasy could only manage $10m (£6.7m) on its second weekend.
Identity Thief also fell down a place to three, earning $6.3m (£4.2m) from its fifth weekend in Stateside cinemas.
Starring Jason Bateman and Melissa McCarthy, the comedy caper became the first North American release this year to cross the $100m (£67m) mark earlier this month.
The only new release in this week's top 10, revenge drama Dead Man Down, claimed fourth place with an opening three-day tally of $5.3m (£3.5m).
Ireland's Colin Farrell appears opposite Sweden's Noomi Rapace in the film, which reunites the latter with her Girl with the Dragon Tattoo director Niels Arden Oplev.
Starring James Franco, Oz the Great and Powerful also features Mila Kunis, Rachel Weisz and Michelle Williams as a trio of witches he encounters in the magical land whose wizard he becomes.
Inspired by the works of L Frank Baum, the film also opened in the UK and Ireland on Friday following a glitzy yellow-carpet premiere in London.