Justin Bieber 'early' for second London gig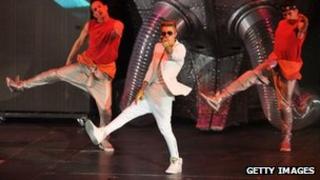 Pop star Justin Bieber made up for his late appearance at London's O2 Arena on Monday night by starting Tuesday's gig early, according to organisers.
"We are happy to report that Justin Bieber made it on stage two minutes early this evening," they wrote on the venue's official Twitter feed.
Initial reports claimed the 19-year-old Canadian arrived on stage almost two hours later than scheduled on Monday.
But the star later insisted he only kept his fans waiting for 40 minutes.
His late show prompted widespread criticism on Monday, with some ticket-holders complaining they were forced to miss part of the concert in order to get their last trains home.
Yet others have leapt to the singer's defence, with some of them contacting the BBC to insist that the delayed start did not detract from their enjoyment.
Speaking at the Bafta Games Awards on Tuesday, British singer Conor Maynard said that there were "always things that can prolong an artist coming on the stage".
"You don't know why that happened," he told reporters at the London event. "I don't want to point fingers and blame him straight away."
Ahead of Tuesday's concert, Bieber followed earlier tweets apologising for Monday's delay with another saying he was "on time and ready".
The singer is scheduled to make two further appearances at the O2 Arena on Thursday and Friday before his Believe tour moves on to venues in mainland Europe.
Meanwhile, one of Bieber's support acts - fellow Canadian chart-topper Carly Rae Jepsen - has pulled out of a concert for the Boy Scouts of America because of the organisation's ban on gay members.
"As an artist who believes in equality for all people... I always have and will continue to support the LGBT [lesbian, gay, bisexual and transgender] community on a global level," she wrote on Twitter.