Trelawny of the Wells: Critics assess Joe Wright's stage debut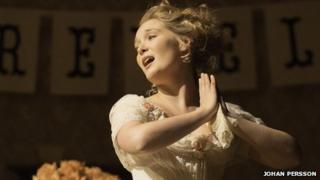 After directing such films as Anna Karenina and Atonement, Joe Wright has turned to the stage for the first time to direct Trelawny of the Wells.
Sir Arthur Wing Pinero's 1898 comedy had its opening night on Tuesday at London's Donmar Warehouse.
It tells the story of Rose Trelawny, a stage star who quits her profession to marry into a well-to-do family.
Hating her upper-class life, she returns to the theatre to find her acting talent has deserted her.
Wright directs an 11-strong cast that includes Ron Cook, Daniel Mays, Amy Morgan, Daniel Kaluuya, Maggie Steed and Peter Wight.
Described as Pinero's love letter to the theatre, the play has received some 21st Century tinkering from playwright Patrick Marber, of Dealer's Choice and Closer fame.
In his introduction to the adjusted text, Marber claims he has "merely dusted and polished" the original "here and there".
"It's a delightful and rare kind of play, one that could amuse an eight-year-old or an octogenarian," he goes on.
Critical reaction has been broadly positive about Wright's theatre directing debut, as the following review excerpts show.
THE GUARDIAN - MICHAEL BILLINGTON
Once Wright stops hitting us over the head with the supposed quaintness of mid-Victorians and trusts what Shaw called the "dainty workmanship" of the later acts, the production settles down and becomes both touching and funny...
Patrick Marber has done a certain amount of cutting and pasting of the original text without causing any great damage.
Hildegard Bechtler has also come up with a design that mirrors the move from artifice to reality by finally stripping everything away to reveal the Donmar's back wall. And, when not driven by Wright to "act" in inverted commas, the cast does a good job...
It's a charming play, but given a slightly over-strenuous production here as if Wright is trying to assert his theatrical credentials.
THE ARTS DESK - ALEXANDRA COGHLAN
In conjunction with the archness and excess of Wright's direction it all occasionally risks chasing its own theatrical tale.
But the energy of the cast, strategically-placed musical numbers and some surreal moments of comedy just about keep things from getting too smugly self-involved.
Trelawny of The Wells is feel-good farce for audiences still recovering from the emotional assault of the Donmar's Julius Caesar.
Marber has successfully loosened the stays on Pinero's tightly-corseted comedy, flashing a bit more ankle than Great Aunt Trafalgar would approve of, and he and Wright have guaranteed us all a reliably warm evening's retreat from the bitter weather this month.
DAILY TELEGRAPH - CHARLES SPENCER
Wright's production affectionately captures a group of theatrical types, ranging from the kind of comedian who is always "on" to a pretentious thesp hilariously played by Daniel Mays.
There is a lovely performance from Peter Wight as a booming actor-manager and an even better one from Ron Cook, who, in a brilliant comic coup that would have given Pinero palpitations, gets up in drag to play the theatrical landlady.
In a spectacular double, Cook is also superb as the crusty old judge whose home is invaded by a riotous party of Rose's thespian friends, leading to the termination of her engagement.
But Cook becomes deeply moving in later scenes as he realises that his own severity has alienated him from his grandson. His reconciliation with Rose, heart-catchingly played by Amy Morgan, in which they bond over memories of Edmund Kean, brought tears to my eyes...
This is a wonderfully funny and touching evening, which, among much else, hauntingly depicts the transient nature of theatre itself.
THE STAGE - MARK SHENTON
Though the stock characters of Arthur Wing Pinero's 1898 comedy aren't marionettes, you can feel their strings being pulled by their author, even as the play seeks to pull our heartstrings with its view of an actress surrendering her life in the theatre for love, but finding herself pulled irresistibly back towards the bigger romance of the stage.
But sadly, the play only succeeded in trying my patience.
DAILY MAIL - QUENTIN LETTS
Beautiful though Miss Morgan's Rose is - and she is well cast - she is not really the central character. That should be a noble, rising playwright called Tom Wrench, but Daniel Kaluuya disappoints here.
Pinero has written an ode to theatre and playwriting, but for that to be apparent we need a sparkier, more magnetic Wrench.
I found myself shuttling between pleasure (not least at cameos from Peter Wight, Daniel Mays and Aimee-Ffion Edwards) and faint embarrassment that director Joe Wright was taking things so slowly.
Trelawny of the Wells is at the Donmar Warehouse until 13 April.