Identity Thief tops US box office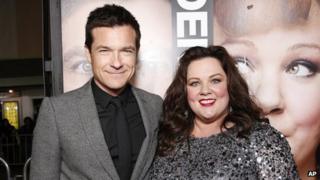 A week after losing the North American box office title to A Good Day To Die Hard, comedy Identity Thief has reclaimed the top spot with takings of $14m (£9.2m).
The road movie stars Jason Bateman and Bridesmaids actress Melissa McCarthy.
It saw off Dwayne Johnson's new release Snitch, which was second with takings of $13m (£8.6m) between Friday and Sunday, according to studio estimates.
That finished ahead of animation Escape From Planet Earth, with $11m (£7.2m).
Due to Oscars weekend in Hollywood, overall box office takings were relatively low. Total sales of $1.4bn (£922m) were reported, a 6.6% drop on the same weekend last year.
Identity Thief follows businessman Sandy Patterson, played by Bateman, who travels from Denver to Miami to confront a woman (McCarthy) who has been living it up after stealing his identity.
Safe Haven was in fourth place with $10.6m (£7m), while the latest in the Die Hard series earned $10.1m (£6.7m), sliding down to fifth place after opening at number one the previous week.
The only other new release, a thriller called Dark Skies starring Keri Russell and Josh Hamilton, managed just $8.8m (£5.8m) in its first week in sixth place.
Silver Linings Playbook jumped back up to seventh on the same weekend that Jennifer Lawrence secured Oscar victory, winning best actress for her role in the film.
Other Oscar nominees and winners Zero Dark Thirty, Argo, Life of Pi, Lincoln, Django Unchained, Amour and Wreck It Ralph remained in the top 20.