Die Hard sequel defies critics at UK cinemas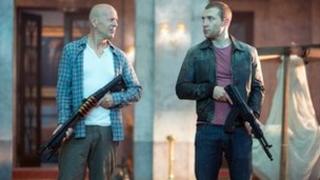 Bruce Willis sequel A Good Day to Die Hard has topped the UK and Ireland box office chart, despite receiving a frosty response from critics last week.
But the fifth entry in the Die Hard series needed takings from Valentine's Day previews to knock Disney animation Wreck-It Ralph off the top spot.
Willis's latest action foray took £4.55m between Thursday and Sunday.
Between Friday and Sunday though, it took £3.27m - £168,975 less than the £3.43m Ralph took over the same period.
Critics poured scorn on A Good Day to Die Hard last week, with one reviewer dismissing it as "a limp parody".
But audiences in the UK and Ireland were not deterred, mirroring their counterparts in the US and Canada where Willis's film was also the top draw over the weekend.
Judd Apatow comedy This Is 40 came third in this week's UK countdown, having opened on 14 February.
Takings from those 332 screenings enabled the film, a semi-sequel built around characters seen in Apatow's 2007 comedy Knocked Up, to claim third place ahead of Les Miserables, still going strong on its sixth week of release.
Beautiful Creatures, a fantasy romance likened by some to box office sensation Twilight, came fifth in this week's chart with a £1.1m tally.
Again, however, that total was bolstered by takings from preview screenings, after having entered the marketplace on Wednesday as opposed to the traditional Friday.
Run For Your Wife, a film version of the long-running Ray Cooney stage farce, also chose to make its bow on Valentine's Day, but to little avail.
The film - in which the late Richard Briers can be seen making a brief cameo appearance - took just £602 from the nine cinemas that showed it between Thursday and Sunday.