People Like Us: New BBC Three series upsets locals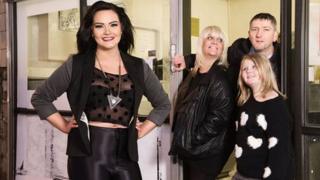 Residents of the Manchester suburb of Harpurhey have complained that a BBC fly-on-the-wall documentary gives a distorted impression of their area.
The Manchester Evening News reported that 200 people turned out for a "fiery meeting" on Monday to protest about BBC Three's People Like Us.
It gives a "biased and distorted" view of the area, Graham Stringer MP said.
The BBC said the show gave a "warm and at times unflinching look" at life and did not focus on negative stereotypes.
The six-part series follows a string of young people in the area, which was named the most deprived neighbourhood in England in a survey in 2004.
'Gutted'
The Manchester Evening News quoted Lisa Walker, who appears in the show with 19-year-old son Dale, as saying her family felt "gutted" by how they were represented.
"They said Dale was unemployed when he is doing a two-year apprenticeship and didn't mention any of the voluntary work he carries out at the local boxing gym and a local school," she said.
"We weren't aware the show was going to come across like that and now we're really worried about what's going to be in future shows as it's not the show we were told it was going to be."
Mr Stringer, who is MP for Blackley and Broughton, said those at the meeting complained that children were being bullied at school because they were from the area and people had pulled out of buying houses there as a result.
"The vast majority of people that live here are decent and trying to make a go of it," he said.
"I don't think that the BBC should be commissioning programmes which make life in a relatively poor area more difficult for people who live here. It's not trying to represent part or all of that life, the programme is actually distorting what's going on."
Mr Stringer said he would request a meeting with BBC Trust chairman Chris Patten. "There was a feeling that the money they're paying in their licence fee was being used to make their life more difficult. They wanted the programme to be taken off [air]," he said.
A BBC spokesperson said: "We are listening to the range of feedback from the local area and contributors, many of whom have been positive.
"People Like Us takes a warm and at times unflinching look at the reality of life for young people in Harpurhey and follows a range of contributors as they tell their own stories in their own words through both good times and bad.
"The series does not focus on negative stereotypes, indeed many of those featured are resilient, resourceful and ambitious young people with positive stories to tell - from running their own businesses to planning their future careers - and they do so with captivating wit and enthusiasm."