Obituary: Mindy McCready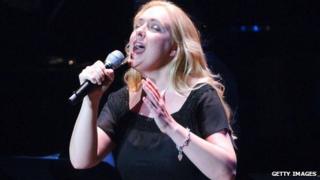 US country singer Mindy McCready, who was found dead on 17 February after a suspected suicide, was hugely popular but was as famed for her turbulent home life as her music.
She was born on 30 November 1975 in Fort Myers, Florida.
The singer began performing at an early age and, like many of her contemporaries, her first musical experiences came in her local church.
McCready left school at 16, intent on pursuing a career in music, and moved to Nashville two years later.
There, she met producers Norro Wilson and David Malloy, who helped her produce a demo tape. She was signed exactly 51 weeks after arriving in Nashville.
Musical success
Her first single, Ten Thousand Angels, reached number six on Billboard's Hot Country songs chart in 1996. A debut album of the same title sold 1.2m copies.
But as her career began to take off, her personal life became more troubled.
She became engaged to actor Dean Cain - star of Lois and Clark - in 1997, but they broke up before the wedding.
She also made headlines for claiming to have had a 10-year affair with former baseball star Roger Clemens that began when she was a teenager.
In 2004, she pleaded guilty to various drug charges and was fined, given community service and put on probation.
A violent relationship with songwriter Billy McKnight led to her being admitted to hospital in 2005, while he was charged with attempted murder.
McCready attempted suicide at least twice before the birth of her eldest son in 2006 Zander, and once again tried to take her own life in 2008.
The young boy was later placed in the care of McCready's mother - and the singer had engaged in a public battle for custody over the last few years.
Celebrity Rehab
At one point she took him from her mother and fled to Arkansas, saying she had concerns over his safety.
A judge ordered authorities to pick up the boy, who was five at the time, and days later authorities found McCready hiding with him in a cupboard at her home.
In 2010 she appeared in US TV show Celebrity Rehab with Dr Drew.
The singer hit headlines again in January this year, when her record producer boyfriend David Wilson was found dead of an apparently self-inflicted gunshot wound in Arkansas.
He was also the father of her second son Zayne, aged 10 months.
Both of her children were removed from her care earlier this month while she was ordered to undergo rehabilitation.
She was discharged last week for outpatient treatment, but her sons remained in foster care.