Richard Collins: Blacklisted Hollywood writer dies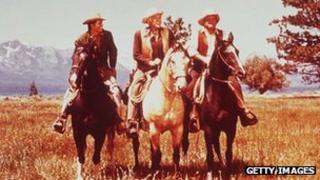 Richard Collins, a writer and producer who was blacklisted during the 1940s communist witch-hunts and later "named names" before the House Un-American Activities Committee (HUAC), has died.
His death in Ventura, California, at the age of 98 was confirmed by his son Michael, the Los Angeles Times reports.
Collins was one of 19 Hollywood writers and directors called by HUAC in 1947.
He went on to have a 30-year career as a writer and producer on such TV shows as Bonanza and Matlock.
Collins was not asked to testify in 1947 and was not one of the "Hollywood 10" who were subsequently jailed for refusing to cooperate.
That list included Dalton Trumbo, who wrote the Oscar-winning Stanley Kubrick film Spartacus.
Subpoenaed again in 1951, Collins identified more than 20 colleagues as communist sympathisers - among them Budd Schulberg, the Oscar-winning screenwriter of On the Waterfront, who went on to name names himself.
According to the LA Times, one of those Collins named - his friend Paul Jarrico, with whom he had written the 1944 musical drama Song of Russia - never spoke to him again.
Collins, who would later express regret over his "friendly" testifying, went on to work on such 1950s classics as Riot in Cell Block 11 and Invasion of the Body Snatchers before finding regular employment in television.
He produced 127 episodes of western Bonanza and 108 episodes of legal eagle drama Matlock before retiring in 1992 at age 78.
Between 1939 and 1945 he was married to actress Dorothy Comingore - best known for her role as Susan Alexander, the second wife of Orson Welles's character in Citizen Kane.
Collins married Julie Danson in 1949; she died in 1991.
In addition to his son, he is survived by a daughter, two grandsons and a great-granddaughter.