Full Monty writer Beaufoy writes Olympic rivalry script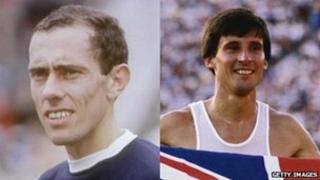 Simon Beaufoy, best known for writing The Full Monty, has completed a screenplay about former Olympic rivals Steve Ovett and Sebastian Coe.
Coe and Ovett dominated middle distance running in the late 1970s and 80s - with their rivalry coming to a head at the Moscow Olympics in 1980.
Beaufoy told BBC News it was "a brilliant story" with a "perfect end".
"They were the biggest threat to each other and they never wanted to find out who was best."
"I hadn't realised how good it was until you dig into their past," Beaufoy said.
"They were fantastically different athletes and different people. And they rarely met... apart from on the track - but not very often, even on the track.
"Before Moscow they'd only raced against each other twice, and once was in a schools' Cross Country event.
"They deliberately kept as far apart from each other as they could, even though they were running he same event.
The pair famously ran against each other at the Moscow Olympics in 1980, winning each other's preferred events - with Coe clinching victory in the 1,500 metres and Ovett picking up gold in the 800 metres.
"There's a brilliant symmetry to that," said Beaufoy, who finished the script, based on Pat Butcher's book The Perfect Distance, last week.
He called Ovett "the perceived bad boy" of the piece.
"I tried to speak to Steve Ovett, but true to form.. he doesn't want to. He never in his career talked to journalists ever, famously refusing interviews."
"Sebastian Coe will give an interview at the drop of a hat, also true to form," Beaufoy added. "Very polite, very media conscious, very aware of his image. They both are.
"They both respond in completely different ways," said the writer, who won an Oscar for his screenplay for Slumdog Millionaire.
"It's a huge responsibility writing about people who are alive. It's the thing about writing that keeps me awake at night, dramatising real life events with real people.
"You've got to get this right because they're still alive and it's their life, but at the same time you have to shape this in a way a drama is shaped.
"You have to shift the pieces around a bit to make it work, which is tricky."
'Second is Nowhere'
No casting has been announced for the film, which is expected to be called either Second is Nowhere or The Perfect Distance.
Following his retirement from the athletics field, Coe went on to become a Conservative MP before being made a peer in 2000. He received a knighthood in the 2006 New Year honours.
Most recently he was chairman of the London 2012 Olympics, leading to his appointment as appointed as Chairman of the British Olympic Association last November.
Ovett retired from athletics in 1991 and now lives in Australia where he works as a sports commentator.