Peter Dinklage signs up for X-Men film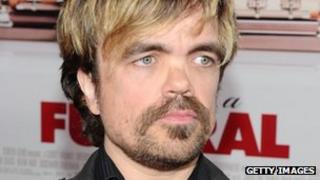 Game of Thrones actor Peter Dinklage has joined the cast of the latest X-Men movie Days of Future Past.
Director Bryan Singer tweeted: "Officially like to welcome PeterDinklage from GameOfThrones to XMEN DaysofFuturePast. Very very excited!"
Singer is returning to direct the next film, having previously stepped aside to co-write and produce.
Matthew Vaughan, who directed the last X-Men, is co-writing the new film.
Dinklage, who has a form of dwarfism, came to prominence in the 2003 independent film The Station Agent.
In 2012 he won a best supporting actor Golden Globe for his role as Tyrion Lannister in the HBO hit series Game of Thrones.
The X-Men franchise, developed from the Marvel comic, has spawned five films so far, including the 2009 Wolverine spin-off.
A follow-up, The Wolverine, is due out this summer. The film will follow Hugh Jackman's character as he travels to Japan to train with a Samurai warrior.
X-Men: First Class, released in 2011, took the X-Men storyline back to when Professor X and Magneto were young men and the origin of the group of mutants known as the X-Men and the Brotherhood of the Mutants.
It starred James McAvoy and Michael Fassbender as the two characters who would later become Professor X and Magneto. Jennifer Lawrence, Kevin Bacon, Nicholas Hoult and January Jones also starred.
Sir Ian McKellen and Sir Patrick Stewart will return for Days of Future Past, which will time travel between different eras, more than 13 years after first taking on the roles of mutant adversaries.
The film is expected to be released in 2014.