Lorraine breaks rules on promotion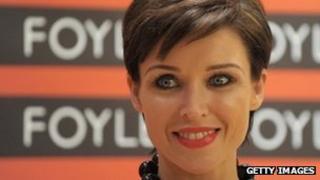 ITV show Lorraine broke rules by allowing Dannii Minogue to promote a milk product she had a commercial deal to endorse, Ofcom has ruled.
The singer appeared on the programme on 8 November, 2012 to discuss her role in a forthcoming diet feature on the show.
But during the segment she went on to talk about the product, where it could be bought and said it was "amazing".
Ofcom said that although the discussion was brief, the overall effect was to "promote and endorse" the product.
The regulator added that as it was not made clear to viewers that Minogue was being paid to promote the product, all references made to it were therefore "unduly prominent".
During the interview, which lasted about five minutes, Minogue spent one minute talking about the product after presenter Lorraine Kelly asked her about her own dietary regime.
The exchange included the singer saying she had "discovered this milk in Australia... it's been a huge success there and it's coming over here".
She also detailed the difference between the product and regular milk and suggested it may be beneficial for people who are intolerant to dairy.
At the end of the discussion, Kelly said: "Well that's great, it obviously works."
'Implicit claims'
ITV told Ofcom neither it nor any person connected with the programme had received payment for the references to the product.
It admitted it understood Minogue was "motivated to talk about" the milk because of her commercial deal, but added that producers had given "clear advice" to the singer that "only a passing reference" to the product could be made.
The broadcaster added Kelly's comment was intended as a "polite acknowledgement" of what Minogue was saying, rather than an endorsement of the product.
However Ofcom said the singer's use of promotional language - including saying the product was "amazing" - together with telling viewers it was available to buy in UK supermarkets, was a clear endorsement encouraging viewers to purchase it.
The regulator added it was concerned at Minogue's "implicit claims" the product could benefit those with a dairy intolerance.
Ofcom concluded the information in the segment "went beyond what would be justified for editorial reasons" and as no indication was given to viewers Minogue had a commercial deal with the product, all the references were in breach broadcasting rules.
As the incident was of a similar nature to a breach ITV made in 2011 when Amanda Holden gave undue prominence to a group of law firms on This Morning, Ofcom said it expected ITV to "take further steps to ensure compliance in this area".