The challenge of bringing Pi to life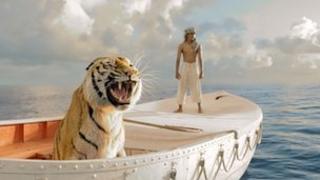 The technical challenges director Ang Lee faced in bringing Life of Pi to the big screen could be rewarded with a host of Bafta awards on Sunday.
If ever there was a 21st Century vision of William Blake's "Tiger, tiger, burning bright", it's in Ang Lee's Life of Pi, the film adaptation of Yann Martel's best-selling Booker winner.
It tells the story of a young man, Pi, who finds himself adrift on the ocean with only a Bengal tiger named Richard Parker for company.
This tiger has been burning brightly in more ways than one. As well as receiving nine Bafta nods and 11 Oscar nominations, Life of Pi has now grossed more than half a billion US dollars worldwide.
It was an even bigger box-office hit in China than it was in the US, and was also India's highest-grossing Hollywood film of 2012.
It's a relief to Taiwanese director Lee as, for many years, the complicated novel was held to be "unfilmable".
"I read the book when it first came out, and it was obvious it couldn't be a movie," he recalls.
"And then Fox approached me about making it, about four years ago. I thought about it for two months, and I was fascinated.
"The movie relies upon illusion and storytelling, and they are my skills. I suppose I was hooked."
SPOILER ALERT! Do not continue reading if you do not wish to know about the plot of Life of Pi.
Life of Pi tells the tale of a teenage boy, Piscine Molitor Patel, who grows up in Pondicherry, India, in the 1970s.
His parents own a zoo. But when Pi is 17 years old, they decide to sell it and emigrate to Canada.
The family boards a boat to their new life, with some of the animals being shipped out too. But en route there is a terrible storm, and Pi finds himself the sole survivor in a boat.
Or so he thinks, until he hauls back the tarpaulin and discovers the zoo's tiger, Richard Parker, is sitting in there with him.
Lee was adamant that an unknown was needed for Pi, so he put out casting calls for 3,000 young actors across India.
Suraj Sharma, a 17-year-old from Delhi, was pestered by his brother to accompany him to a try-out. Yet it was Suraj who eventually found himself at the final audition.
He was, he says, "shaking like a leaf, because I also knew if I got the part I couldn't swim".
Perhaps it was his destiny to play Pi. After all, Sharma is the son of two mathematicians.
During filming he had to lose 30 pounds of weight to reflect his shipwreck victim status.
Yet Lee says he was "always full of joy, always wide-eyed [and] always reminding those of us who can be jaded why we make films".
'Intense passion'
The teenager remembers it slightly differently, saying the experience was "so intense".
"There were about 3,000 people on set trying to make it work. And literally, if one thing goes right in a day, it's a miracle.
"You're waiting for the cameras to work because there's a fog, sometimes the tide has gone out and sometimes you have a kid who can't act," he adds, pointing to himself.
"Somehow we survived."
Since making the film, he continues, life has been "unreal". "But the main thing for me is I want to be on set, and I want to tell stories.
"I don't mind if I am behind the camera as long as I am part of the process. It's this fiery, crazy, intense passion I feel about it, and that's what I want to do."
Sharma has been rewarded for his debut by being shortlisted for the Bafta Rising Star award.
Lee has two best director Baftas already - one for Crouching Tiger, Hidden Dragon in 2001, and another for Brokeback Mountain in 2006.
The film-maker is known for compulsively seeking challenges, be it adapting Jane Austen in Sense and Sensibility or creating comic book action in Hulk.
But Life of Pi would prove his biggest challenge to date, requiring both a tiger and an ocean. Neither could be real, and both would require advanced special effects.
"We had to make Richard Parker a CGI creature," Lee smiles. "We couldn't risk crew members getting eaten.
"But we brought in four Bengal tigers along with a trainer, and we set up a 'boat' inside a tiger enclosure to shoot a few key scenes
"There's one of Richard Parker swimming in the ocean. That's a real tiger.
"It set a benchmark for the CGI. With that in the film, the tiger had to look as real in the rest of the scenes."
Lee also decided to film in 3D, "just because I thought that particularly in the ocean, it would add to the audience experience of going through Pi's journey.
"It's not to have crazy special effects, like a humpback whale streaking the surface of the ocean, or schools of fish, though they all add to the visual experience. It was just to add to the story.
"For four years I have been obsessing about every detail of Life of Pi," the director concludes. "It has completely consumed me."
The 2013 Bafta Film Awards will be held at London's Royal Opera House on 10 February and will be broadcast on BBC One from 21:00 GMT.