Hansel & Gretel rules US box office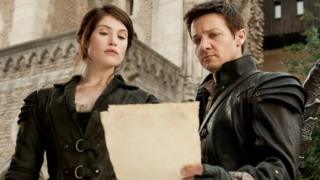 Hansel & Gretel, a horror film in which the fairy-tale characters are reinvented as adult witch-hunters, has bewitched North American cinemagoers.
The film came top of the US and Canadian box office chart, earning $19m (£12m) between Friday and Sunday, according to studio estimates.
The film stars Jeremy Renner and Gemma Arterton as the lost siblings who have grown up to become bounty hunters.
Hansel & Gretel pushed last week's top film Mama into second place.
Mama, another horror movie, stars Jessica Chastain and tells the story of two young children who are rescued after being lost in the woods. It took $12.8m (£8.1m) over the weekend.
Several Oscar contenders are benefiting from their nominations.
Silver Linings Playbook, the romantic drama that is the first film for 31 years to have Oscar nominations in all four acting categories, remained in third place with $10m (£6.4m).
That film stars Bradley Cooper and Jennifer Lawrence as a couple who get together after each suffering mental health issues.
Zero Dark Thirty, another Jessica Chastain movie, which dramatises the hunt for Osama Bin Laden, is at number four with $9.8m (£6.2m).
Crime thriller Parker, starring Jason Statham and Jennifer Lopez, opened in fifth place with $7m (£4.4m), while Quentin Tarantino's latest film Django Unchanied is in sixth with $5m (£3.2m), according to box office trackers Hollywood.com.