Silent film viewers invited to create new soundtrack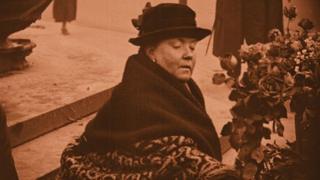 Viewers of a newly restored silent film showing London in the 1920s are to be given the opportunity to create their own bespoke soundtrack.
Flowers of London contrasts footage of the city's dirty streets with pictures of flowers, designed to signify hope.
It will be made available on The Space website, a collaboration between Arts Council England and the BBC.
The BBC's New Radiophonic Workshop will invite site users to choose their own combinations of sound effects.
Flowers of London is one of six films in the Wonderful London series, all from the 1920s, that have been restored by the BFI National Archive.
The Radiophonic Workshop, which made theme tunes and soundtracks for the likes of Doctor Who and Blake's Seven, reopened last September after 14 years.
"What initially appeared to be a straightforward commission ended up being one of our most challenging projects," said composer Matthew Herbert, leader of the workshop.
"We were keen to allow the viewers the chance to customise their listen, and so they are able to choose what kind of soundtrack they think the film should have."
"We believe that sound is as important as the image," said Peter Maniura, curator of The Space.
"Flowers of London is particularly special as it allows the audience to control their listening experience - tailoring music, narrative and effects to build their own soundtrack."
Flowers of London will be made available on The Space from 7 February.