Kimmel beats TV rival Letterman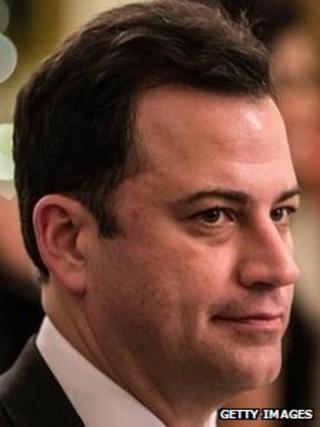 US TV presenter Jimmy Kimmel has beaten David Letterman in the battle of the late night talkshow hosts.
ABC's Jimmy Kimmel Live moved from its midnight slot to 2335 on Tuesday, putting it in direct competition with top-rated hosts Letterman and Jay Leno.
The debut show, featuring Jennifer Aniston, won 3.1 million viewers, against Letterman's 2.9 million on CBS, according to Nielsen figures.
Jay Leno's Tonight Show on NBC topped the ratings with 3.3 million viewers.
"I am now 25 minutes closer to my lifelong dream of co-hosting The View," joked Kimmel about his show's earlier time slot, referring to the popular daytime talk show hosted by Barbara Walters.
New generation
Kimmel, 45, is being pushed as the new face of late night television, with both Leno, 62, and Letterman, 65, seeing their ratings fall in recent months.
The younger presenter fares particularly well with the key 18-49 demographic, an area in which he beat Letterman by 30 per cent on Tuesday, with 887,000 viewers versus 683,000.
The earlier show also saw Kimmel add more than a million to his usual audience numbers. His show typically drew 1.9 million in its former midnight time slot.
However, it remains to be seen whether Kimmel will continue to attract high ratings. When NBC moved Conan O'Brien to the same slot in 2009, the early results were strong but O'Brien's ratings quickly slumped and the comedian was axed from the network.