Grammy Awards: Selected winners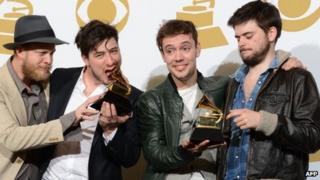 Fun, Gotye, The Black Keys and Mumford & Sons were among the winners at the 55th Grammy Awards, the most prestigious music awards in the US.
The awards were handed out at two separate ceremonies in Los Angeles on 10 February.
The categories, 81 in all, ranged from pop and rock to gospel and bluegrass. A selection of the winners is listed below.
Album of the year
Babel - Mumford & Sons
Also nominated:
El Camino - The Black Keys
Some Nights - Fun
Babel - Mumford & Sons
Channel Orange - Frank Ocean
Blunderbuss - Jack White
Record of the year
Somebody That I Used To Know - Gotye featuring Kimbra
Lonely Boy - The Black Keys
Stronger (What Doesn't Kill You) - Kelly Clarkson
We Are Young - Fun featuring Janelle Monae
Thinkin Bout You - Frank Ocean
We Are Never Ever Getting Back Together - Taylor Swift
Best new artist
Fun
Also nominated:
Alabama Shakes
Hunter Hayes
The Lumineers
Frank Ocean
Song of the year
We Are Young - Fun featuring Janelle Monae
Also nominated:
The A Team - Ed Sheeran
Adorn - Miguel
Call Me Maybe - Carly Rae Jepsen
Stronger (What Doesn't Kill You) - Kelly Clarkson
Best pop solo performance
Set Fire To The Rain (Live) - Adele
Also nominated:
Stronger (What Doesn't Kill You) - Kelly Clarkson
Call Me Maybe - Carly Rae Jepsen
Wide Awake - Katy Perry
Where Have You Been - Rihanna
Best pop duo/group performance
Somebody That I Used To Know - Gotye featuring Kimbra
Also nominated:
Shake It Out - Florence & The Machine
We Are Young - Fun featuring Janelle Monae
Sexy And I Know It - LMFAO
Payphone - Maroon 5 & Wiz Khalifa
Best pop vocal album
Stronger - Kelly Clarkson
Also nominated:
Ceremonials - Florence & The Machine
Some Nights - Fun
Overexposed - Maroon 5
The Truth About Love - Pink
Best dance recording
Bangarang - Skrillex featuring Sirah
Also nominated:
Levels - Avicii
Let's Go - Calvin Harris featuring Ne-Yo
Don't You Worry Child - Swedish House Mafia featuring John Martin
I Can't Live Without You - Al Walser
Best dance/electronica album
Bangarang - Skrillex
Also nominated:
Wonderland - Steve Aoki
Don't Think - The Chemical Brothers
> Album Title Goes Here < - Deadmau5
Fire & Ice - Kaskade
Best traditional pop vocal album
Kisses On The Bottom - Paul McCartney
Also nominated:
Christmas - Michael Buble
A Holiday Carole - Carole King
Best rock performance
Lonely Boy - The Black Keys
Also nominated:
Hold On - Alabama Shakes
Charlie Brown - Coldplay
I Will Wait - Mumford & Sons
We Take Care Of Our Own - Bruce Springsteen
Best rock song
Lonely Boy - The Black Keys
Also nominated:
Freedom At 21 - Jack White
I Will Wait - Mumford & Sons
Madness - Muse
We Take Care Of Our Own - Bruce Springsteen
Best rock album
El Camino - The Black Keys
Also nominated:
Mylo Xyloto - Coldplay
The 2nd Law - Muse
Wrecking Ball - Bruce Springsteen
Blunderbuss - Jack White
Best R&B performance
Climax - Usher
Also nominated:
Thank You - Estelle
Gonna Be Alright (F.T.B.) - Robert Glasper Experiment featuring Ledisi
I Want You - Luke James
Adorn - Miguel
Best urban contemporary album
Channel Orange - Frank Ocean
Also nominated:
Fortune - Chris Brown
Kaleidoscope Dream - Miguel
Best R&B album:
Black Radio - Robert Glasper Experiment
Also nominated:
Back To Love - Anthony Hamilton
Write Me Back - R. Kelly
Beautiful Surprise - Tamia
Open Invitation - Tyrese
Best rap performance
N****s In Paris - Jay-Z & Kanye West
Also nominated:
HYFR - Drake Featuring Lil Wayne
Daughters - Nas
Mercy - Kanye West featuring Big Sean, Pusha T & 2 Chainz
I Do - Young Jeezy featuring Jay-Z & Andre 3000
Best rap album
Take Care - Drake
Also nominated:
Food & Liquor II: The Great American Rap Album, Pt. 1 - Lupe Fiasco
Life Is Good - Nas
Undun - The Roots
God Forgives, I Don't - Rick Ross
Based On A T.R.U. Story - 2 Chainz
Best country album
Uncaged - Zac Brown Band
Also nominated:
Hunter Hayes - Hunter Hayes
Living For A Song: A Tribute To Hank Cochran - Jamey Johnson
Four The Record - Miranda Lambert
The Time Jumpers - The Time Jumpers
Best Americana album
Slipstream - Bonnie Raitt
Also nominated:
The Carpenter - The Avett Brothers
From The Ground Up - John Fullbright
The Lumineers - The Lumineers
Babel - Mumford & Sons