New York's Carnegie Hall reopens after superstorm Sandy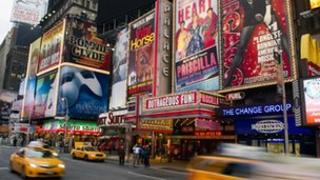 Theatres on Broadway suffered due to superstorm Sandy, with takings down an estimated $8.5 million (£5.3m) on the equivalent period last year.
All Broadway productions cancelled at least one performance last week, while shows that did go ahead saw a drop in audiences according to the New York Times.
Carnegie Hall will reopen on 7 November for the first time since the storm.
The historic music week closed on 28 October as Sandy closed in on the city.
"We are delighted that great music will finally be heard once again on our stages", said Carnegie Hall executive Clive Gillinson.
According to trade association The Broadway League 48 performances in total were cancelled, with The Lion King and Phantom of the Opera among shows affected.
Within two days of the storm passing, however, theatres had generally returned to normality.
Before the storm, a damaged crane on West 57th Street left dangling by the winds caused street closures in the Carnegie Hall area.
Most of the street was re-opened on Sunday, though Carnegie Hall itself still needed to restore its power.
"We're pleased to report that the crane has now been completely secured," said the venue's executive and artistic director Clive Gillinson.