ParaNorman animation tops UK box office chart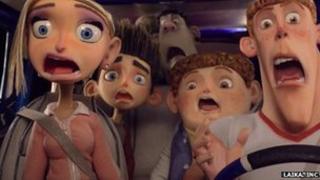 3D comedy animation ParaNorman has climbed to the top of the UK and Ireland box office chart on its second weekend on release.
The stop-motion film was the only title to make more than £1 million between Friday and Sunday.
Two new entries - Killing Them Softly and The House at the End of the Street - claimed second and third place.
Last week's winner, a remake of 1970s detective drama The Sweeney, earned £727,742 to secure fourth place.
Rounding out the top five was Meryl Streep vehicle Hope Springs, which took £625,201 in box office receipts.
Anna Karenina, starring Keira Knightley, dropped three places to six with weekend takings of just over £500,000.
In seventh place Brave made £468,182. The Disney-Pixar animation is the only picture in the Top 10 to have taken more than £5m.
American gangster movie Lawless fell to number eight, while number nine was claimed by science fiction film Dredd.
Oliver Stone's crime thriller Savages was the third new entry in this week's Top 10, squeezing into the chart at number 10.
Starring Benicio Del Toro and Salma Hayek, the film earned just £379,898 from its 379 locations.
The Top 15 films in this week's chart earned £7.4m in total, 15 per cent down on the previous weekend's takings.