NBC defends not broadcasting 9/11 tribute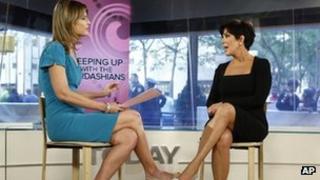 NBC has defended its decision to interview a reality TV star instead of observing a moment of silence marking the 11th anniversary of 9/11.
While other networks aired live silent footage of memorial events, NBC's Today show aired a segment with Kris Jenner from Keeping Up With The Kardashians.
An NBC spokeswoman said Tuesday's show had "dedicated a considerable amount of time to September 11th coverage".
The network is already under fire for its coverage of the London 2012 Games.
'A major fail'
In keeping with recent tradition, ABC, CBS and Fox paused their morning programming at 08:46 EST on Tuesday to mark the minute, 11 years ago, when the first of two hijacked airplanes struck New York's World Trade Center.
NBC, in contrast, showed presenter Savannah Guthrie quizzing Jenner about breast implant replacement surgery, though the network did show footage from the 9/11 memorial in Manhattan in some US regions.
Viewers took to social media to express their displeasure over what one Twitter user described as "a major fail".
"So much for 'Never Forget'," wrote Village Voice blogger James King, while the Denver Post's Joanne Ostrow decried what it called "a wrong-headed decision".
NBC recently faced criticism for omitting a tribute to victims of the 2005 London bombings from its coverage of the Olympic Games opening ceremony and for pausing the closing ceremony to air a sitcom.
It also drew censure for not showing any live action from the 2012 Paralympic Games, despite holding exclusive rights in the US.
The International Paralympic Committee (IPC) said it would scrutinise future broadcast partners more carefully as a result.
"Are we proposing to talk to NBC? Well, let's hope NBC are proposing to speak to us," said IPC president Sir Philip Craven.
"Everyone has seen what has gone on here and we're waiting for them to knock on the door."