Frank Lloyd Wright archives move to New York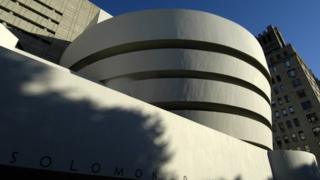 The archives of Frank Lloyd Wright are to move to New York to become part of the collections of the Museum of Modern Art and Columbia University.
Considered one of the greatest architects of the 20th Century, Wright designed more than 1,000 buildings, including New York's Guggenheim Museum.
The archives include some 23,000 of his drawings and 44,000 photographs.
The Frank Lloyd Wright Foundation said the collaboration would ensure "the best public access" to the works.
Wright is regarded as one of the defining figures of modern architecture, with more than a third of his buildings listed on the US national register of historic places.
His works include the distinctive spiral of the Guggenheim Museum in Manhattan and the cantilevered home known as Fallingwater, which straddles a waterfall in woods outside Pittsburgh.
Since his death in 1959, his thousands of drawings, photographs and personal letters have been stored at his former homes and studios at Taliesin West in Scottsdale, Arizona, and Taliesin in Spring Green, Wisconsin.
Under the new arrangement, MoMA will house the three-dimensional items, including many of the models made for Wright's exhibition at the museum in 1940.
Columbia's Avery architectural and fine arts library will house the papers, photographs, interview recordings and films.
MoMA director Glenn Lowry said having the archives would be "extraordinary".
"It places one of the most important bodies of work of a major architect in a central location in New York and will be transformative for both institutions."