Coldplay hit played across UK to end 2012 Festival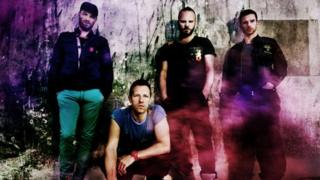 Musicians across the UK will perform Coldplay's anthemic hit Viva La Vida as part of the London 2012 Festival finale.
The band have agreed to the track being played at 2pm on Sunday 9 September during the "Bandstand Marathon".
The event will see hundreds of outdoor community concerts taking place simultaneously that afternoon.
Coldplay are one of the star acts of the Paralympic Games closing ceremony in the evening.
Frontman Chris Martin said: "It's a great honour for us to be part of the celebrations for the Paralympic Games and it should be a great moment when the bandstands of Great Britain strike up in unison."
Concert locations include Inverness - where the Bandstand Marathon's oldest singer, aged 91, will appear - Penzance, Armagh and Llandudno.
Three acts have won the chance to perform at the Olympic Park Bandstand:
Ruth Mackenzie, director of the London 2012 Festival, said: "The Bandstand Marathon is encouraging local music groups to showcase their talents and be part of the London 2012 Festival."
The event is being produced by the arts organisation, Superact, and Making Music, an organisation for voluntary music.