Ofcom: TV viewers 'less concerned about sex'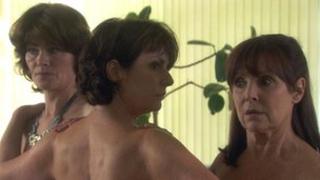 The British public is less concerned about the amount of sex, violence and swearing on TV than in the past, a report from media regulator Ofcom says.
The survey found that 25% of adults felt there was "too much" sex on the small screen, down from 36% in 2005.
And three out of four people said they agreed that the timing of the 21:00 watershed was "about right".
However, 19% of people said they had been offended by something shown on their TV screen in the last 12 months.
Thirty-six per cent of viewers were concerned about the level of violence, and the same number raised concerns about swearing.
Ofcom noted that the figures had dropped since 2005, when the current Broadcasting Code came into effect.
At that time, 56% were concerned about violence and 55% about swearing.
Last year Ofcom issued new guidelines on the watershed, which warned broadcasters to be more careful about what they show before 21:00.
The 12-page document was issued in response to several breaches of its code, many of which included explicit music videos.
In its latest report, the regulator said 12% of audiences felt the standard of programmes had improved - a rise of 2% since 2005.
About 55% said quality was being maintained, while the proportion of adults saying standards had "got worse" fell from 40% in 2005, to 31%.
"More repeats" and a "lack of variety" in programming were the top reasons given by those who felt the standard of TV had slipped.
Adults over the age of 65 were more likely to have felt that standards had worsened, while younger respondents to the survey - those aged between 16 and 34 - felt they had improved.
The report also found that TV was the main source of UK and international news for 76% of adults.
Newspapers were the biggest source for 8% of adults, with 7% turning to the internet and 5% listening to radio news bulletins.
More than half of adults - 59% in all - felt that TV news was "impartial", down from 66% last year.