Music and fun as The X Factor returns for a ninth series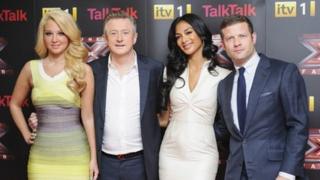 The new series of The X Factor returns to ITV screens this weekend for its ninth season, promising "an amazing show".
As ITV 1's "big daddy of entertainment shows", television bosses have vowed that The X Factor will still be all about the music... with some drama and emotion thrown in.
But with a lower audience for last year's final than the two previous years, the judges - who include Gary Barlow and Tulisa Contostavlos, along with stalwart Louis Walsh will be under pressure to deliver the goods.
Joining them on the panel is former Pussycat Doll-turned solo singer Nicole Scherzinger who makes her debut as a full time mentor.
With the exception of Gary Barlow, who is grieving the recent loss of his stillborn baby, the judges appeared at London's Corinthia Hotel on Thursday for the press launch of the new series.
Speaking to the room of journalists, Walsh, Contostavlos and Scherzinger all sought to bring a different attitude to the show.
Walsh, who has been with X Factor since it began nine years ago, quipped "nothing can shock me", while new girl Scherzinger insisted viewers shouldn't be fooled by her pleasant demeanour.
"Underneath it all, I'm a scary bitch," she insisted.
Contostavlos, returning for her second consecutive series, said it was easier being on the panel after winning the show last year with girl-group Little Mix.
"I think people have been a little bit more respectful of my opinion, which has made it a lot easier for me."
The former N-Dubz star revealed her desire to hold on to her crown - but it was clear the other judges all wanted to win just as much.
Format
From the evidence presented by the first episode, the format remains broadly the same.
With the usual scattering of contestants who surprise and make viewers sit back and - at times - shiver, it should make for a watchable series.
As in previous shows, this year's auditions featured guest judges, including Spice Girls Mel B and Geri Halliwell and pop newcomer Rita Ora.
Among the cities visited were London and Manchester, introducing a host of wannabe contestants from various walks of life, including a waitress, a shop worker, a florist and a fireman.
All of the stock X Factor characters were present and correct: The entertainer, the nerd, the utterly confusing one, the (very) angry one, and the "revelation".
Mel B lived up to her Scary Spice tag, and brought some of the brutal honesty which Simon Cowell was famous for as a judge - and which seemed to be lacking in last year's series.
"Mel B always tells the truth," agreed Contostavlos.
"You're either going to love her or hate her on the show," she added.
This year's live final will take place in the depths of winter in Manchester - the first time the show has ventured out of London for its climactic showdown.
In another change, musicians with a manager were allowed to apply to take part for the first time.
Previously, singers or bands signed to a management agent were not allowed to take part in the show, as they were believed to have an advantage over other contestants.
Contostavlos said it was a positive change, and one that encouraged musicians with a "noticeable rawness" to apply.
"Many play instruments and have written their own songs," she said.
"There was a stigma attached to people who have a manager, that they've had experience and shouldn't be a part of the show. I think it's a whole load of rubbish.
"This year we've opened the doors to that and we've got some real home grown talent, more than ever," she added.
Drama versus music
There have been suggestions ITV needed to amend the show's format to recapture viewers (and a little lustre) following Simon Cowell's departure last year.
When Little Mix won, an impressive peak audience of 15.5 million were glued to their TV sets. But that was four million lower than previous finals. In 2010, a peak of 19.4 million saw Matt Cardle's triumph and in 2009, 19.1 million viewers tuned in.
But the judges and ITV played down any suggestion that they were concerned about ratings.
"It was still the second biggest X Factor last year," said Walsh, pointing to weekly average ratings of around 11 million.
"The press gave it a hard time," he suggested, "the public loved it".
Speaking on behalf of ITV, managing director of Talkback Thames, Richard Holloway, said the broadcaster was "absolutely thrilled" with the results of last year's show.
"The ratings fluctuate from time to time but when you're still the number one show on television, is there much to complain about? Not really," he said.
Judging by the tearful eyes of some of the press who watched the first episode, the show has managed - once again - to tug on heart strings.
But is there an argument that it is too focused on the drama and emotional back stories, ahead of the quality of the music?
Not according to Contostavlos, who said the music would always come first. But even she admitted that a primetime entertainment show couldn't exclude drama and fun.
"It's a family show. It's not just about the talent," she said.
"The reason these people win the show is because there are people voting for them, so it's about talent and connecting with the audience. Gor people to connect you have to see every side of the person.
"If you're going to see every side of a person and see them in every situation there's going to be drama, tears and laughs. That doesn't make the show any less credible. It's still about the music," she added.
The X Factor is on ITV1 on Saturday, 18 August.